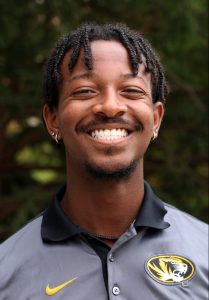 Braiden Wade
Marketing Intern
Biography
Braiden Wade was born in Pine Bluff, Arkansas and moved to his hometown of Eudora, Arkansas shortly after. In 2007 he settled in St. Louis, Missouri and lived there until he enrolled at MU in 2020. While in St. Louis he had an interest in Interior Design, but after getting a camera in his hand he fell in love with photography. His passion for photography continued to grow throughout high school and his freshman year of college. Wade also enjoys  videography, recording or photographing sports, people, events and architecture.
Wade is part of the Class of 2024 and is majoring in photojournalism. He is currently involved in NABJ, MBMI, Model 3.0, The Maneater, The Missourian, Mizzou ASA, Mizzou Athletics and TRIO. Wade takes full advantage of the opportunities he's earned and enjoys meeting people through these programs. He plans to work in the fashion or music industry as a photographer, and under a news outlet such as New York Times.
In Fall 2021 he joined the CASE Marketing team as a photography intern and podcast host to draw more attention and awareness to topics affecting BIPOC both on and off campus. Wade sees a lot of voices going unheard and talents unseen and wants to give them more opportunities to be highlighted and listened to. CASE Underground will be a spin-off podcast of On The CASE. He wants this podcast to not only bring awareness, but also be an outlet for others to express themselves and tell their stories, in hopes of reaching and inspiring others just like them.