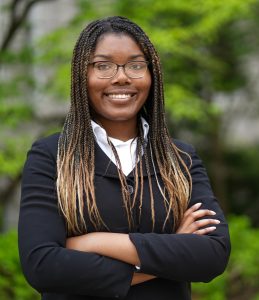 Cydnee Dotson
Marketing Intern
Biography
Cydnee C. Dotson was born and raised on the south side of Chicago, Illinois. Her interest in journalism sparked in high school, where she took broadcasting classes for two years. One day, during her junior year of high school, Chicago White Sox in-game host and anchor Alyssa Bergamini guest lectured for her broadcasting class. Bergamini recommended Mizzou for studying broadcast journalism. Cydnee hadn't yet considered journalism as a major, nor Mizzou as a university choice until that moment. Cydnee took Bergamini's advice in her senior year to apply – and now – she is a rising junior at MU. Instead of broadcast, Cydnee is pursuing a strategic communication emphasis and a minor in psychology.
Cydnee has been involved in numerous organizations at MU, including the Mizzou Black Women's Initiative (MBWI), the National Association of Black Journalists (NABJ) Alé Chapter, and the Legion of Black Collegians (LBC) Gospel Choir. She is very active in the Black organizations and student life on campus. On the journalism side, she has written articles for The Maneater, MUTV, and now CASE. She has written opinion pieces, TV reviews, and news stories for all three outlets, respectively.
With CASE, Cydnee is also a Diversity Award recipient. She joined the CASE marketing team in Spring 2022 as a feature writer. She covered the Spring 2022 Salute to Excellence ceremony recap in April. Cydnee looks forward to telling more stories highlighting the successes of the underrepresented students CASE serves, covering prominent CASE events, and branching out to other departments within the CASE marketing team. She has a love for audio storytelling and interviewing people – so she's joined the CASE podcast team to work as a producer and fill-in guest host.
When she graduates, Cydnee would like to work in digital communications or marketing for a professional sports team (preferably basketball). She'd love to work with the Chicago Bulls or Charlotte Hornets in the NBA or the Chicago Sky in the WNBA. With a passion for television entertainment as well, she would also venture to work for a media conglomerate such as Warner Bros., Discovery or the Walt Disney Company.