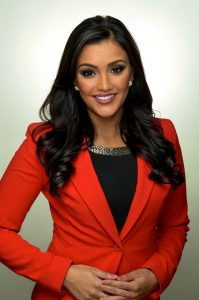 Fallon Marie Smith-Christopher
Director of Marketing
Email: fallonsmith@missouri.edu
Biography
A proud Latina born and raised in California, Fallon Smith is a 3x Emmy Award winning Sports Anchor/Reporter/Host/Podcaster. She has over a decade of experience covering professional and collegiate sports. From 2013-2018 she worked for NBC Sports Bay Area, as the Raiders beat reporter for the station along with anchoring/hosting studio shows and assisting with Warriors coverage throughout their championship runs.
After graduating from UCLA in 2006, Fallon worked at the Tennis Channel and KTLA. In 2008 she packed up and moved to Wyoming for her first real on-air gig where she was a "one-man band" and eventually became the first women in Wyoming history to win Sports Anchor/Reporter of the year. In 2011, she packed up again and moved further east to Knoxville, TN where she covered the SEC, before making it back home to the Bay Area in 2013..
Fallon's husband, Nicodemus, joined the Mizzou Men's Basketball staff in 2017. In the summer of 2018, Fallon made the move to Columbia to join him full time to start a family.
Fallon spent 2018-2020 with Blue Wire Sports Podcasting Network as Co-Host of "Keeping it 300: A Raiders Podcast" with her childhood friend, former NFL player, and current NFL Network Analyst, James Jones
In the Fall of 2019, Fallon served as an adjunct professor for the Missouri School of Journalism. However, when the opportunity to work with underrepresented minority students on MU's campus presented itself, she couldn't pass it up. As a first-generation college student and Mexican American, she understands the importance of mentorship, support, and resources for students of color. She was officially hired as the Director of Marketing for CASE in February 2020.
Fallon is excited to lead the CASE Marketing team and mentor their talented student staff.
"I am honored for the opportunity to mentor the next generation of journalists and marketing professionals," Fallon said.