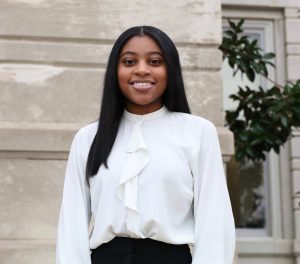 Lauren Purdy
Marketing Intern
Biography
As a member of the CASE Marketing Team, Lauren Purdy has strived toward sharing the program's mission of supporting the academic achievement of underrepresented minority students.
Born and raised in Memphis, Purdy received her high school diploma from St. George's Independent School. She is currently a junior at MU, pursuing a Bachelor of Journalism degree, as well as a Black Studies minor.
Purdy has worked as both an opinion and copy editor for The Gryphon Gazette, The Lodge, and is a self-published author. In 2018, she was awarded by the Tennessee High School Press Association for Best News Story and the National Scholastic Press Association for Social Justice Reporting.
In the spring of 2019, Purdy joined the CASE marketing team to gain experience in the field and to further her studies in the J-School's strategic communication program. Currently, she serves as a digital communications intern to help enhance CASE's visibility on its various social media platforms (Twitter, Instagram and Facebook). Her goal is to use the platforms to inform scholars and the MU community about the CASE program.
Purdy is also a George C. Brooks Scholar, a site manager for the Desire to Aspire Mentoring Program, and the secretary for the MU Alé Chapter of the National Association of Black Journalists. By being part of the marketing team, she has grown closer to the CASE staff and other scholars, and through her work, she hopes to be a resource for other students like herself.
After college, she aspires to attend graduate school and eventually work in the sports and entertainment industry as a brand or marketing strategist.