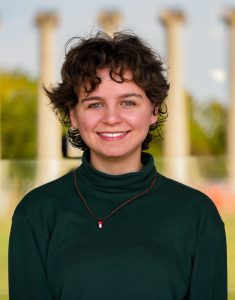 Malakai Wampler
Marketing Intern
Biography
Malakai Wampler has lived in many locations across Missouri, the most recent being Columbia. They are majoring in psychology and art and have aspirations of becoming an art therapist.
Hired as a marketing intern in Fall 2022, Wampler focuses on video editing for the CASE website and social media platforms. They started video editing as a hobby in late 2016 and gained a small following on Instagram. Eventually they disabled the account in favor of advocating for LGBT+ rights.
At CASE, they get to combine their hobbies with their devotion to diversity and inclusion.