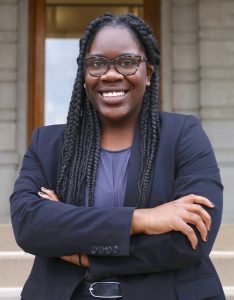 Marketing Intern
Roshae Hemmings is a junior at Mizzou from St. Louis, MO studying Arts and Culture Magazine journalism, as well as Women's and Gender Studies. Roshae joined the CASE Marketing Team in Spring 2019, then took some time away and rejoined in Summer 2020. However, her relationship with the CASE office goes back to 2018. Roshae was part of the 2018 Summer Transition Program (STP) cohort, now known as Summer Bridge. While getting a head start on college was not initially her ideal way of spending her summer after high school, she credits the program with giving her the best summer she has ever had. Roshae continued her relationship with CASE and STP by transitioning into the role of Student Coordinator for the 2019 STP cohort. Because Roshae experienced the resources, family-feel and belonging that CASE provides to students, it was only natural to her to rejoin the marketing team and highlight the amazing things that CASE students and staff are doing on Mizzou's campus.
"CASE has provided so much more than academic support for me. It provides me with a network of faculty members and peers that have a vested interest in my personal, academic and professional success," Roshae said. "To me, CASE truly is a family and I hope my work with the team demonstrates that."
Outside of her involvement with CASE, Roshae is also a Resident Advisor for Residential Life, on the Legion of Black Collegians executive board, and is a member of Diversity Peer Educators. After graduation, Roshae hopes to write for a magazine, discussing pop culture and social justice issues.