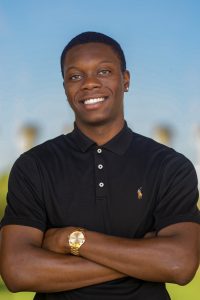 Royce Griffin
Marketing Intern
Biography
Royce Griffin was born and raised in Jackson, Mississippi. He is a sophomore at Mizzou. Griffin is majoring in journalism with an emphasis in sports broadcast, and he is pursuing a minor in business. Griffin's dream job is to become a sports analyst for ESPN and a commentator for professional sports.
Prior to coming to MU, Griffin attended Murrah High School in Jackson. At Murrah, he played football all four years and he competed in the 400-meter and 400-meter relay in track his junior and senior year. Griffin did not have any plans of playing sports in college, but he did want to pursue a career in sports in another capacity. Since he had a passion for sports and loved talking about sports, he knew that sports journalism was the way to go.
What attracted Griffin to Mizzou was its prestigious School of Journalism. After earning the Diversity Scholarship Award, Griffin knew Mizzou was his choice. Griffin first learned about the opportunity to be involved with CASE through his mentor Christian McDonald, who is a senior at Mizzou and on the CASE marketing team, too.
Griffin joined the CASE marketing team in Fall 2022. He plans to contribute as a host and producer on the podcast, CASE Underground. Griffin is excited to gain inside knowledge and skills from 3-time Emmy Award winning sports journalist and reporter, Fallon Smith-Christopher.