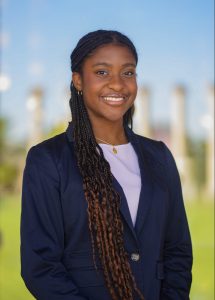 Sarah Parisien
Marketing Intern
Biography
Sarah Parisien is a junior from the Chicagoland area pursuing journalism and Chinese Studies at MU. She has dreams of writing and storytelling for a publication or company that shares her passion for culture, equity, and is dedicated to the truth.
Sarah's passion for journalism was sparked her sophomore year of high school when it was suggested she write for her school newspaper. Her involvement with the newspaper along with a student organization called Students Organized Against Racism (SOAR), inspired her to study journalism with an equitable and community-based lens.
She is the daughter of Haitian immigrants, thus she enjoys learning about various cultures and languages. After traveling to China for two weeks as a youth ambassador, she took an interest to Mandarin and Chinese culture as it compares to the United States.
Sarah is a Diversity Scholar and has been involved with many organizations on campus. She is an active member of the National Association of Black Journalists (NABJ) Alé Chapter, Women of Color, Ambition, and Honor (WOCHA) and was a member of the Mizzou Black Women's Initiative (WOCHA). She has written for three publications across two states, and is currently writing for The Missourian through her j-school courses and CASE.
Sarah is excited to venture on this new journey with CASE to showcase the wonderful people that make up MU.