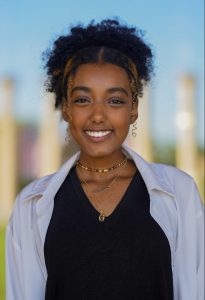 Sireen Abayazid
Marketing Intern
Biography
Sireen Abayazid is from Omaha, NE and is part of MU's class of 2024. She began writing and reporting at 15 years old for her high school's newspaper. She has since pursued graphic design, photography and audio producing both independently and through student-led and professional media outlets at the University.
She is studying Cross-Platform Producing and Editing in the School of Journalism and minoring in Information Technology and Middle East Studies. She enjoys producing and designing for digital platforms as well as storytelling through her writing and creative projects.
Abayazid joined the CASE marketing team in Fall 2022 as a feature writer and podcast producer. Through her writing and her work with the podcast, she hopes to amplify the voices of CASE Scholars and underrepresented minority students at MU.