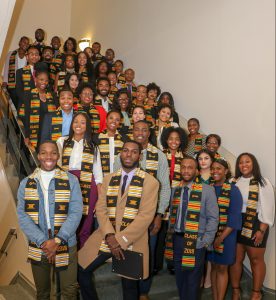 Since its founding in 1995, the Center for Academic Success & Excellence has served thousands of MU graduates who have benefited from their engagement in CASE programming and services. Many of them have gone on to distinguished careers in all types of career fields. Many have gone into a multitude of graduate programs both here at Mizzou and at other institutions across the country.
We value the contributions made by all of our alumni both for the University of Missouri, the Columbia community and their respective communities throughout the country.
Here are a few ways that our alumni can stay connected and involved with the life of our current students, our office and our campus:
Make a Gift … there are numerous ways that you can support our students. Gifts provide tuition assistance and experiential educational opportunities to help students maximize their potential and engage in scholarship.
Get Involved …

CASE Alumni Mentorship Program
CASE Annual Scholarship Gala

Stay Informed …

Facebook: www.facebook.com/MizzouCASE
Twitter: @MizzouCASE
Newsletters and Annual Reports

Alumni Update Form … Are you a Center for Academic Success & Excellence alumnus? Please fill out the form below to let us know what has been happening in your life, keep us informed of any change in address and more.