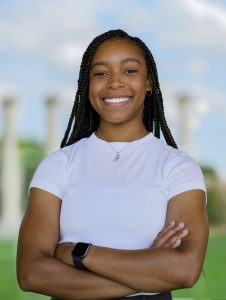 Janae Taylor
Marketing Intern
Biography
Janae Taylor, a St. Louis native, is a part of the class of 2023 here at MU. She is a journalism student, majoring in social media and audience strategy with a minor in business.
Coming to Mizzou, Taylor initially had plans of going into sports broadcasting. She had grown up in and around sports, so naturally, she still wanted to stay involved in some sort of way. As Taylor got more into her business courses, she decided to switch her career path. Now, Taylor is not only excelling in this field but has a job set up with Lids, a billion-dollar company, as a marketing coordinator post-graduation. Taylor is also very interactive around MU. In addition to being a CASE intern, she works part-time for Lids, is a marketing student assistant for Mizzou Athletics, and is a residential assistant for the university.
Taylor chose Mizzou for many reasons, but earning the Brooks Scholarship was the main one. This scholarship is through CASE, and with those CASE connections, she got the opportunity to work on the CASE Marketing Team. She began in the Spring of 2020 and continues to generously contribute to this program. Taylor saw this position as a chance to learn and grow as a journalist but has gotten so much more out of it. From learning career and life lessons to making new friends and people she can forever call family.