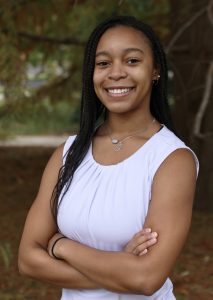 Janae Taylor
Marketing Intern
Biography
Janae Taylor, a St. Louis native, is a part of the class of 2023 here at MU. She is majoring in broadcast journalism with a minor in business marketing. Taylor has goals of working for ESPN someday, either in front of the camera or behind it.
Before coming to college, Taylor was a student-athlete. She competed in Varsity track and basketball all four years. At first, she had plans of going to school for track, but after some unfortunate events she decided to focus on academics and be a full-time student. With her love for sports Taylor realized she could still incorporate athletics with her aspirations of becoming a journalist by going into sports broadcasting.
Taylor chose Mizzou for many reasons, but earning the Brooks Scholarship was the main one. This scholarship is through CASE and with connections through the program she is now on the CASE Marketing Team. She began in the Spring of 2020 and plans to contribute as much as she can. Taylor saw this job as an opportunity to learn and grow as a journalist. This will help her grasp all aspects of journalism from writing features to creating graphics to videography.
Taylor is thrilled to be a part of this team and is excited to continue her journey at Mizzou.