Published on Nov. 9, 2020
Updated on Nov. 25, 2020
MU's Center for Academic Success & Excellence (CASE) manages a multitude of scholarships for underrepresented students in an effort to recruit them into becoming Mizzou Tigers. The Dr. Donald Suggs Scholarship is one of those awards. Recipients receive $15,000 per year – plus a waiver of nonresident tuition for students not from Missouri –$7,000 for study abroad and $2,000 to participate in the MU Discovery Fellows Research Program as a Freshman. This year, Jada Paden beat the odds and won this momentous honor.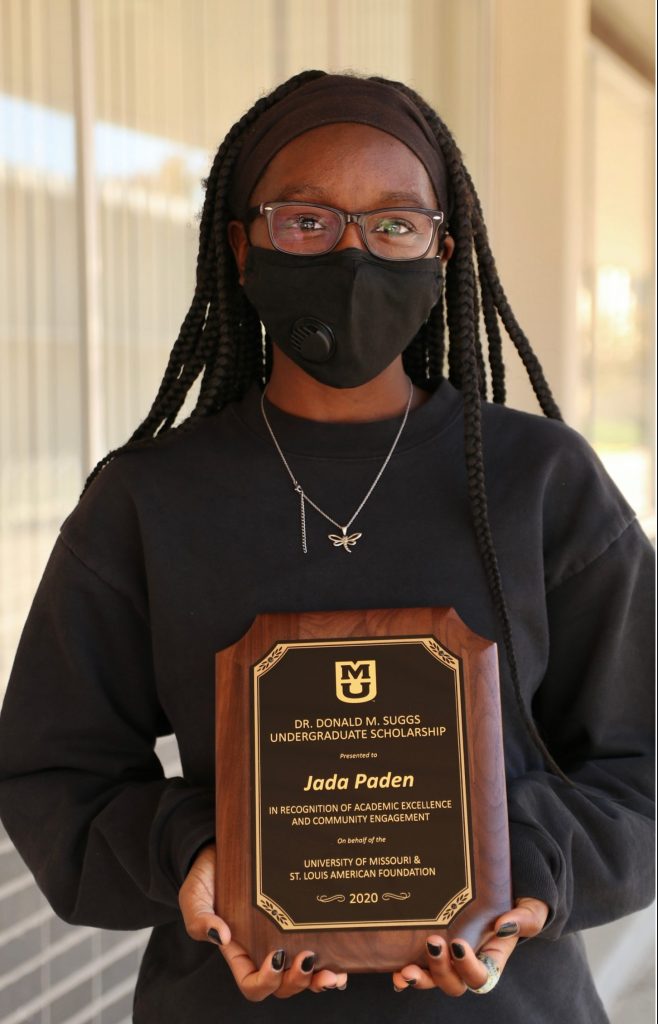 A native of Wentzville, Missouri, Paden was immensely active at her high school. She was part of the leadership program 'Eagle Ambassadors' which included, but was not limited to, her arriving early every Thursday to help set up her high school's chapel service. Before service began, she showed students and their parents to their seats. On top of that, she participated in volunteer activities while part of the National Honor Society, was on her school's track and field team, played volleyball for a couple years and was a member of her school's worship team.
While attending Christian High School, Paden realized there weren't many people who looked like her. Being one out of three or four Black students at the school, she wanted to choose a college that would expose her to more diversity. Paden was a bit skeptical of MU at first.
"I was looking around at colleges that had a little bit more color in it and when I found Mizzou you know, there's not an overabundance of people of color and so that was one of the biggest issues," Paden said. "Am I going to see people that look like me? Am I going to see representation around campus?"
The CASE department's dedication to make students of color feel welcomed at MU appealed to her.
"CASE, first of all, they're absolutely amazing at trying to get more people of color to come. If I don't see people like me, why would I want to come? But If someone sees me and they're like 'Oh, shoot, I want to come here now,' let me be that for somebody then'," Paden said.
Despite her enthusiasm for MU, Paden was still cautious about attending because Mizzou does not offer her major of choice. Since Missouri is a land-locked state, marine biology is not an option.
"They were like 'Come visit anyway. You might still really like it. We might be able to do something,' Paden explained. "So, when I came and visited, it was springtime and all the flowers were out and it was beautiful. I was like 'I can definitely see myself living on this campus'."
Paden was told she can still pursue biology through international business. That was all the convincing she needed to decide MU was the place for her. With her commitment to Mizzou, the next step was figuring out how she was going to cover tuition. That is when she stumbled upon information about the Suggs Scholarship.
"I don't even know how I found it," Paden said. "I think I was scrolling through some of the scholarships that [MU] had and they were like 'This is a competitive scholarship' and I was like 'I don't want to do competitive scholarships. I don't want to do anything that I have to write an essay for. I want the easy ones that just give you $50.' My dad was like 'Who cares? Even if you don't get it, you might as well sign up for it anyways.' So, I did it and then went to the interview and I got it."
Paden's father, Jade Paden, has seen firsthand how his daughter never gives up on a challenge, no matter how big or small. He and his wife constantly encourage her to keep going.
"Jada has always been tenacious about succeeding with an excellent work ethic. When Jada makes a grade that she is not pleased with, I rarely have to say anything. She is harder on herself than I would have been," Paden's father said.
They say "the apple doesn't fall far from the tree" this holds true in the Paden household. Jada's drive and strong will is a reflection of her parents.
"When it comes to hard work, my wife and I both own businesses and Jada has worked for both of us for years. When you own your own business, there's rarely a day off," Paden's father said.
Although Paden thought being chosen for the Suggs scholarship was a long shot, her father's advice to apply for it, paid off.  She received the great news when she least expected it.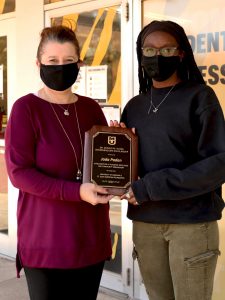 "I definitely cried. I work at a bakery and I was standing behind the counter and all of my coworkers were working with people … so I went over to the corner and was checking my email and fell to the ground and started bawling. Everyone started staring at me," Paden explained. "I called my dad and was like 'Hey. I got the scholarship' and I read it to him, and he was screaming, and my mom started screaming and I was crying in the middle of work, so I was really excited."
Given the rarity of this award, Paden's emotions are warranted. This scholarship is no small feat. Along with the rigorous application process, only one student is selected each year. Yes, just one. Jada Paden is 2020's solo recipient.
"This scholarship provides a wonderful opportunity to high-achieving St. Louis students like Jada Paden. Candidates go through a competitive application and interview process to be selected as the one student in each freshman class to achieve this premier scholarship," MU's Executive Director of Admissions Chuck May said. "The applicant pool generally exceeds 300 exemplary students and it is truly an honor to be selected."
Though Paden remains humble and questions why she received the scholarship, MU saw something in her that she did not see in herself. Now that the financial burden of college tuition is lifted, it allows Paden to focus on her academics and her path to graduation.
Paden's parents could not be any more amazed by their daughter.
"Words can't explain how proud we are of Jada," her father said. "She inspires us to be better and more dedicated in our everyday life."