Published on Feb. 11, 2022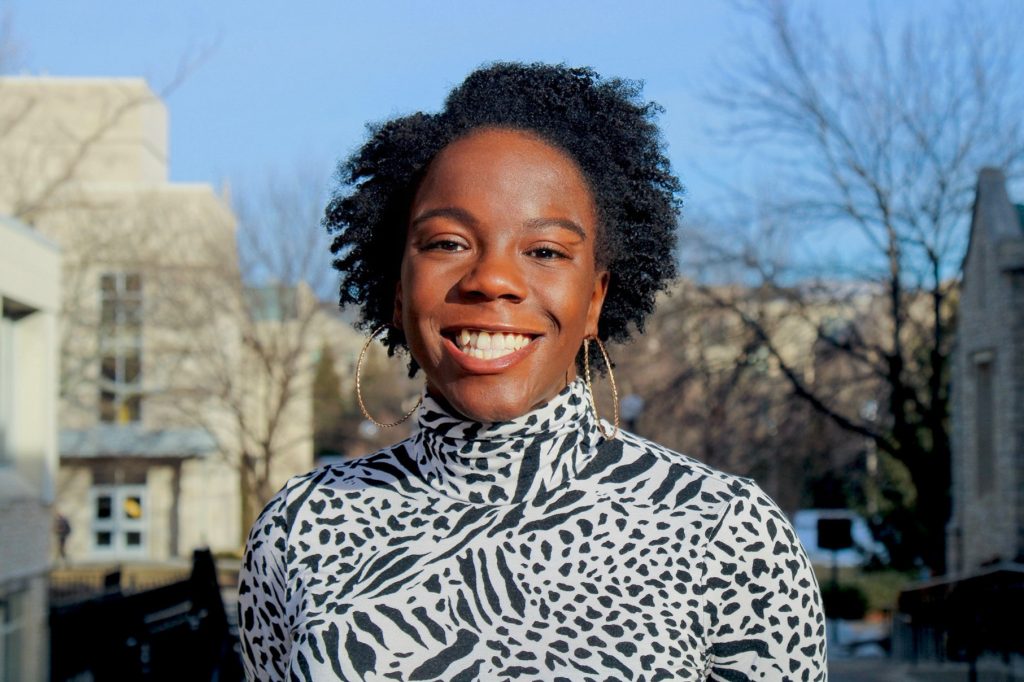 Jamica Jacobs was filled with emotion knowing that her mother, Gloria Robinson, sat among the sea of people watching Osceola High School's graduation in Arkansas. Jamica didn't know all she would accomplish in the following four years, but she knew that her mother was proud of what she had already done.
For Jamica, a CASE Diversity Scholar, that day represented the faith her mother had in her, but it also highlighted how lucky she was to have these moments. Robinson seeing Jamica grow and succeed wasn't a guarantee how other students see it. As Jamica prepares to graduate from MU in May, she feels a similar sense of gratitude to know her mother will be in the crowd.
With every accomplishment, academic or otherwise, Jamica recognizes how special these moments are. Before Jamica was born, Robinson was diagnosed with Alzheimer's, a progressive disease where brain cells and the connections between cells degenerate, eventually leading to the deterioration of memory and other important mental functions.
Her mother's fortitude left Jamica enamored before she could even understand the diagnosis.
"With my mom being a single mother, I knew she had great strength," Jamica said. "On those tough days, she's gathered so many wonderful attributes. I know I'm on the right track because of the sacrifices she's made for me and what she has taught me. My mom has given me the light that so many people see in me. She's given me the love that I have right now in my heart."
Jamica was eight years old when her mother explained her diagnosis, but it didn't change the way Jamica viewed Robinson. She saw Robinson's determination and support as something to replicate within her own life. However, learning about her mother's Alzheimer's introduced Jamica to a whole new world.
"When she had first approached me with the diagnosis, it was at first a tad bit confusing," Jamica said. "She was just like, 'I'll just need some help because I'll be a little bit forgetful.' From a very young age, I had to educate myself on the effects that this disease can have on her mind, brain and her body. Ever since then, I've taken on those responsibilities in helping her."
In elementary school, Jamica read from a set of encyclopedias that her mother owned, hoping to gain understanding of what her mother was going through. The scientific explanations, combined with her personal experience, kept Jamica invested. By high school, she was trying to make sense of how Alzheimer's disease developed.
"The first emotion had been confusion, but then the second emotion was curiosity," Jamica said. "I think I had a sense to help those who couldn't help themselves. I wanted to empathize with my mom. Me being able to help her remember to do things around the house — it made me see people through a different type of lens because you never know what someone else is going through. I always tried to approach people with a humble and understanding heart."
In Jamica's personal life, this looked like helping track her mother's progression and supporting her in any way she could. However, Jamica soon found another way to help.
Her interest in the Alzheimer's led Jamica to a passion for neuroscience. By high school, she was thinking about graduate school. And, by college, she was destined for greatness, but first she had to overcome the reality that choosing MU meant moving hundreds of miles away from home.
"I'm overprotective of my mom," Jamica said. "You've heard of a helicopter Mom, I'm a helicopter daughter. Although I may be 600 and so miles away, I can still make things happen in our hometown. I've established great relationships with people close to her, and I'm always like 'If something were to come up, you need to be calling me and asking me about this or that.'"
Jamica wasn't fond of the idea of being away from her sister and mother. While she knew MU offered her an academic community she needed to thrive, she also knew that if push came to shove, her mother would always come first.
"If something was to happen to my mother, I'm not comfortable with other people taking care of my mother," Jamica said. "I know everyone has different opinions on this, but my "this" is that she gave birth to me. She's already done enough, but she also raised me to be the person I am today. College would be put on hold. It would be my own decision, not her decision."
Fortunately, Jamica didn't have to make that choice while at Mizzou. She spent her time creating an impressive list of academic accomplishments. With CASE as a support system, Jamica managed semesters with 18 credit hours as a Biological Sciences major.
"Right now, being a senior and looking back at my freshman year, CASE has helped me every step of the way through all of their tutoring services through the writing center, and even through my advising with Miss Ana-Maria (Fernandez)," Jamica said. "CASE has always been there to reach out and make sure that I'm doing my best. Even if I fell short, in a couple of classes, they always made sure I had my resources and made sure I got what I needed to be successful. That is why I'm so prosperous, literally till this day, is because the resources they've given me allowed me to become the person I am right now. Because without those tutoring sessions, or without that extra nudge, or just without a hearing ear, I don't think I would be where I'm at right now. So I'm thankful for all the faculty members' encouragement of me."
With the encouragement from CASE and the drive in Jamica, on top of her heavy academic workload she made time to do more. Near the end of her junior year, her Africana Womanism professor, Dr. Clenora Hudson-Weems, asked Jamica to co-author the preface to her next textbook.
"I was appreciative of her work, and her trailblazing to make me knowledgeable of why my family structure is like this, or why my community is like this," Jamica said. "When I was talking to the other authors that were writing chapters within this book, it was amazing to be in communication with them. It made me feel connected to my people. I didn't know a lot about my culture, or the African American community, but coming here to Mizzou and being able to take some courses that have given me great understanding and a type of peace."
For Jamica, this wasn't just an opportunity to be listed as a co-author, it was a chance to share how much she's found out about herself through the academic community she's built.
"I don't feel lost anymore within a society that can be sometimes very cruel," Jamica said. "Being educated about the African American community, through my ideas, my intellectual endeavors with these people that have Ph.Ds in certain types of cultural studies. Many children like me come from a struggling, impoverished community, and they don't get to see other African Americans excel, or even go onto higher education. I was inspired by getting here and being able to contribute to inspiring other people or the next generation. Yes, you may come from these tough upbringings and everything, but you can still do it."
As a senior, Jamica continues to excel within her academics. She is honored to be part of the McNair Scholars Program at MU which prepares students for graduate study. During her last year in college, Jamica has gotten the opportunity to participate in a program that was built on the academic community that she wanted. She even had the chance to present research findings at the MKN McNair Heartland Research Conference in Kansas City, in Fall 2021.
Jamica's study, which focused on different receptor expressions in the stomach muscles in the Cancer borealis (Jonah crab), was captivating to her and to the panel of people at the conference.
"After presenting, I got a standing ovation, and I made them fall in love with a crab," Jamica said. "It was an amazing community of different knowledge and intellect. I literally looked myself in the mirror to say, 'I'm so proud of myself.' It's been such a tough road, but I'm getting to that point that I've dreamed of as a child."
Right now, Jamica is waiting to hear back from five graduate programs she interviewed for across the country. While she knows she wants to go to graduate school to study neuroscience, she doesn't know where she'll end up. From St. Louis to Arizona to Florida, Jamica's future is somewhere beyond Columbia and Arkansas, but she knows it will always come back to the things that made her who she is today.
Jamica's story is a recognition that something as simple as walking across a stage means the world — when you can look out into the crowd and see the person who inspired you to achieve greatness. Every part of Jamica's academic success will always be a gentle reminder that behind the scholarships, the academic community, the research and her publication — the foundation of her story is about a daughter who loves her mom.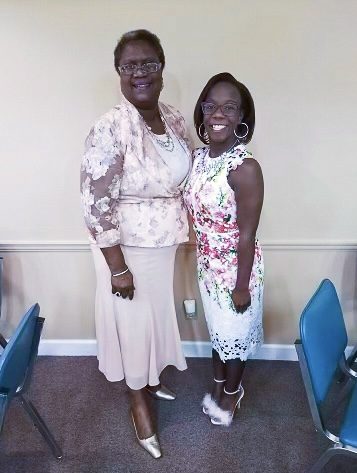 MU Senior Jamica Jacobs cherishes every moment she has with her mother Gloria Robinson. (Photo/Jamica Jacobs)