Published on Dec. 21, 2016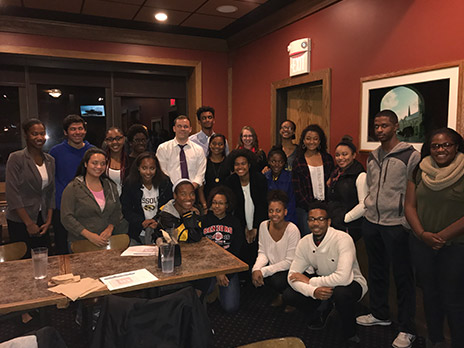 There's a big difference between being involved in organizations and starting one from the ground up. The former is time-consuming, but manageable and slightly more predictable. The latter requires hard, dedicated work and a hope for success. Allie Starks and Matthew Rosebrough, juniors at Mizzou, know the feeling well.
Since the spring semester of 2016, Starks and Rosebrough have been developing a new program called the Undergraduate Success program. This program partners with the Honors College and Center for Academic Success and Excellence to help Brooks and Suggs Scholars—students with high ACT scores and members of underrepresented groups— enter or maintain their standing in the Honors College.
"Our main goal is to enhance students' academics and build a community," Starks says, which she and Rosebrough do through workshops, advising and mentoring.
Directors J.D. Bowers of the Honors College and Donell Young of Center for Academic Success and Excellence began this effort last spring and sought out motivated students who wanted to take on the role of making it come to life. They had initially planned to hire only one student as an ambassador, but after reviewing all applicants and conducting interviews, they knew Starks and Rosebrough were too strong of candidates to select only one.
"Matt and I work really well together, and I can't imagine doing this without him," Starks says.
The two have worked tenaciously since the beginning of the semester to plan workshops for the 30 students in the program, all of whom applied and interviewed for it over the summer.
It was difficult at the beginning, Rosebrough says. "We have workshops every two weeks, but we struggled at first with attendance and getting freshman to gel with each other."
The program had initially been focused on two pillars: academic and professional. But it soon became clear there needed to be a focus on the social and community pillars as well, Rosebrough says.
Starks and Rosebrough adjusted their approach, transformed meetings and initiated more social events, such as gatherings at the Heidelberg. They began making it more of a collaborative program with the participants.
Sania White, a freshman at Mizzou who participated in the program, says her favorite part of it was that it was tailored to benefit everyone in it. "Before the program started, there was an agenda for each workshop," she says, "but if a group of students needed to learn about how not to stress, the program directors made sure there was a session about managing stress."
This is exactly how Rosebrough hoped the program would be. "It takes a lot of planning because we wanted to make sure the program is beneficial for the students and not just a cut-and-dry program where they show up to fulfill requirements," he says.
Additionally, Rosebrough and Starks say the student-led aspect makes the program one that is beneficial and comfortable. Starks says when something happens on campus, such as racially biased comments, she and the students are able to sit down in a controlled setting and talk about it. "We're going through it at the same time, as students, so it's a level of interaction you can't get with a professor or a graduate student," she says.
The program was successful last year and Starks and Rosebrough are excited to continue helping it grow.
"It builds students up in a well-rounded fashion," Rosebrough says of the program. "Not only are they getting professional development and good content but also the social and community aspects—they're building friendships."
And Starks and Rosebrough can say the same of each other.
"It's been cool working with Matt because we're very different," Starks says, "He's business, I'm pre-med, we are on two completely different sides of campus and not involved in any of the same things. I don't think I would have met him without this."