Published on Jan. 7, 2019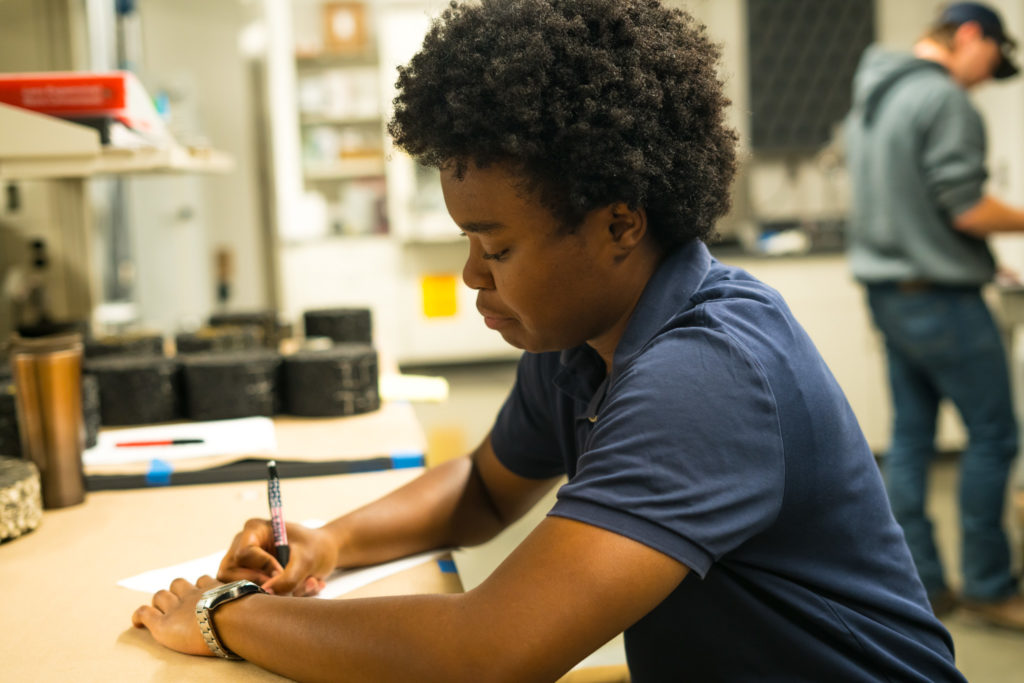 Most college students await anxiously for the day of graduation, not in nervousness of crossing the stage and accepting their diploma, but instead, in fear that nothing waits for them afterwards.  Senior Jeanette Greene, Chicago native, Civil Engineering major, and CASE Scholar, wasted no time in preparing and equipping herself with tools that would help her succeed in the future.
For most college students, not many can say they have had an internship in their desired career field after their freshman year. However, Greene has demonstrated she was not your typical freshman, securing an internship after her first year at Mizzou.  When asked about the importance of getting engaged as a freshman, Greene said, "freshman year is really about setting the foundation. You want to put yourself in a situation where everything can build off of that. I'd say that getting an internship after my freshman year propelled my college career. From there, getting an internship after that was ten times easier."
Greene strategically placed herself where she would be able to progress, not only her career but herself as an individual, which has paid dividends for her.  She credits a lot of her work as a reason she can transition out of Mizzou more smoothly, stating, "Now, I'm in a situation where I'm six weeks out from graduation and I already have a job lined up so I don't have to have the stresses of trying to graduate and find a job, where I can just be calm and enjoy these last moments at Mizzou." In February of next year, Greene will start her full-time job at the headquarters of Arco Construction in St. Louis, MO.  Arco specializes in the design and construction of office buildings, warehouses and distribution centers and other facilities. Greene credits this opportunity to attending an engineering career fair during her junior year. This gave Greene the experience and skills needed to advance herself to where she is today.
Since her time on campus, Greene has been involved in multiple organizations including the Mizzou Archery Team, Mizzou Alternative Breaks, the National Society of Black Engineers (NSBE) of which she held a position on the executive board and has even co-founded an organization called Out in Science, Technology, Engineering, and Mathematics (OSTEM). With so many different experiences, Greene takes into account how her identity has evolved throughout her years at Mizzou.
"My first major experience of putting myself in a new situation definitely shaped and propelled my whole college experience," Greene says, as she recalls her Mizzou Alternative Breaks experience from her first year. "I was just around people I had never met before and they were all white women and that's totally fine. But actually, just being somewhat in isolation and knowing that that was literally my foreshadowing to what my experience would be here at Mizzou, I think Mizzou Alternative Breaks put me in a situation where I became comfortable being the only person of color and the only kind of outsider but being comfortable in my own skin." Besides being an African American on a predominately-White campus, Greene also considers her other identities. "My experience has not only been shaped by me being Black but it's also been shaped by me being a woman, being a queer woman, being a masculine-presenting woman. All these things total into me as a whole."
When asked what the Center for Academic Success and Excellence (CASE) has done to shape her as an individual, Greene did not hesitate to mention the mentoring she has received from the program. Devara Brock or "Ms. Brock", a Student Services Coordinator in CASE, has been one of Greene's biggest advocates and mentors. "I'd say the identity that I hold closest to me would be my queerness and she has helped me. When I was unsure of myself, she was just there by my side even though she didn't necessarily know what to say. And I really appreciated her being there for me. She's definitely going to be the person from CASE who I will miss the most."
And the connection goes both ways according to Brock "We are extremely close," Brock says, even describing their relationship as mother-daughter. "I learn from her as well as she learns from me." When initially asked how Greene has influenced her life, she could only respond with one word, "Big", later commenting that, "She's made me more
aware… She's going to go on to do amazing things. [Her] enthusiasm about who she is, is a positive light". Brock, almost at a lost for words for describing Green, says, "She has set the bar for future students [at CASE]." Brock adding on that Greene has taught her about how she can better assist other students. Greene has not only made her own path but intends to help others along the way. CASE has provided a support for Greene like no other; and Greene has clearly used it as a launchpad.
With all Jeanette Greene has accomplished and the impact she has had, it is clear to say that she is not one to fall by the wayside. Rather, Greene is taking initiative and designing her own path, not leaving her future up to luck.
By Nia Martin and Ciara McCaskill; Photos Credit: Tre Warfield and Gabriella Salinas