Published on March 2, 2022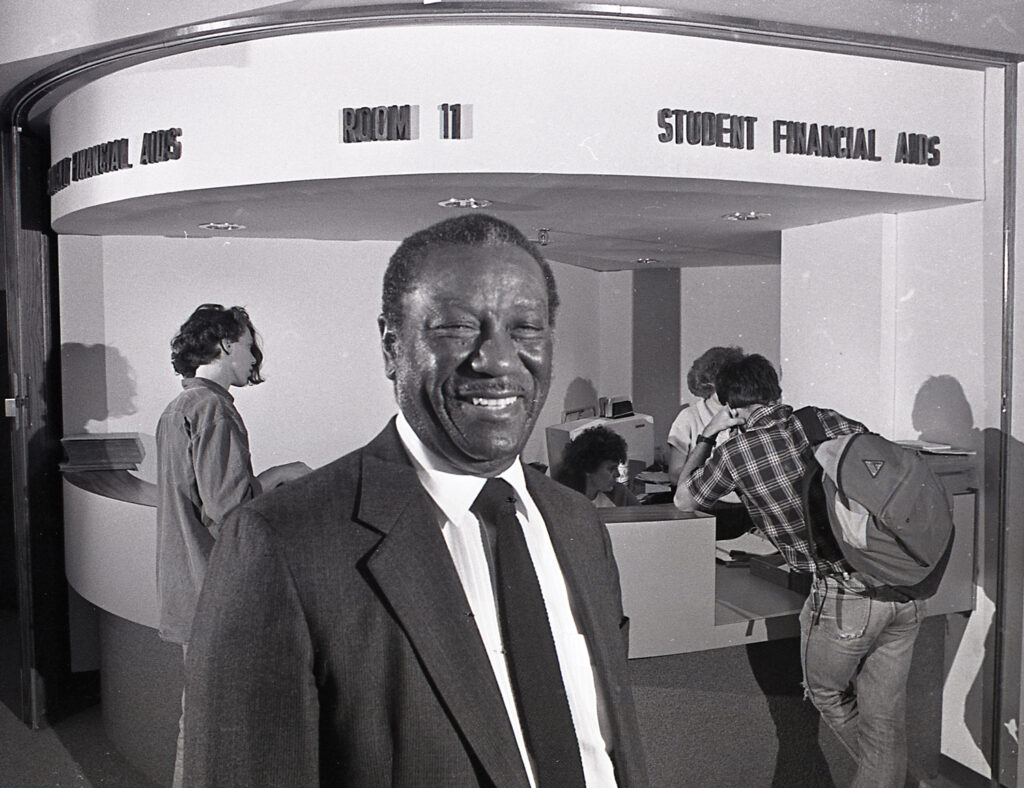 The legacy of George C. Brooks started in 1958 when he graduated with a Masters in Education from the University of Missouri. During an era where racial segregation was still alive and well, Brooks took on the challenge of working for the university. Brooks spent 25 years at MU and eventually became the first Black administrator.
As the director of Financial Aid for 17 years, Brooks facilitated a monumental change for minority staff and students on campus. Brooks started the university's work-study program and helped hire the university's first black faculty member, Arvarh Strickland.
The year before Brooks retired, the university created the George C. Brooks Scholarship in his honor. The scholarship was established to improve the recruitment and retention of students from underrepresented racial and ethnic groups. Brooks Scholars from Missouri receive $7,500 annually, which covers nearly 70% of tuition and fees. Students from out of state receive a non-resident waiver and also $7,500 per academic year.
Earning this prestigious scholarship is far from an easy task. On average, over 500 prospective students apply for the scholarship annually. There is an extensive application process to narrow the group down to just 30 scholarship recipients.
It starts off with a written letter from the student describing themselves while also expressing why they are the perfect candidate for the Brooks Scholarship. After the online application, the number of candidates goes from over 500 to around 200 students. Then, all 200 candidates come to Mizzou and interview in person over the course of two weekends.
Janae Taylor, a 2019 Brooks Scholar recipient, remembers the pressure she felt during the process.
"Once I found out I made it to the interview portion of the scholarship, I was extremely excited and overcome with joy," Taylor said. "When it came to the interview I was very nervous, but the CASE staff at the interviews made me feel comfortable."
For other Brooks Scholars, like Ymbar Polanco-Pino, a senior at MU, these interviews can impact their trajectory coming into college.
"Going through the interviews really made me think about life and appreciate so much more about myself that I hadn't previously seen," Polanco-Pino said.
The Center for Academic Success & Excellence's staff helps interview hundreds of applicants while helping them feel welcomed during their visit to campus. This is important to note because the CASE staff is often many students' first impression and encounter with MU faculty.
"They saw something in me that I didn't even see in myself when I came in as a high school senior," Polanco-Pino said. "The outpouring of love I received allowed me to be more introspective and then it just really made me excited to be at Mizzou."
In 34 years, MU has awarded more than 1,000 Brooks Scholarships. The task of developing and mentoring scholars once they're on campus belongs to CASE. The CASE staff works hard to make sure the scholars have access to the resources needed to succeed in and out of the classroom.
One of the first resources that CASE makes sure students have is a cohort with other Brooks Scholars where students can find peer support. This establishes the educational and social environment to ensure a sense of belonging. Each cohort is made up of the 30 students selected throughout the application process each year. These cohorts meet regularly and are offered holistic guidance from the staff.
Scholars rave about the Brooks cohorts and the impact they have had on their college experience. Keara Shannon, a junior at MU, attributes some of her success to the support provided by her cohort and the CASE staff.
"The cohort gave me a sense of community when I arrived on campus," Shannon said. "I met a lot of cool people that are still my friends today, and I was able to learn important things such as resume building and how to find the right internship."
Speaking of internships, the cohort acts as a launchpad, not only for other opportunities on MU's campus but also for opportunities within CASE, such as the CASE Marketing Team. This is a paid marketing internship where interns are able to develop skills related to writing, podcasting, social media, photography and more.
"The CASE internship has allowed me to gain invaluable experience but also build lifelong bonds with my podcast co-host DuVonté Beard and our boss Fallon Smith," Taylor said. "The internship has done a lot for me inside and outside of the classroom, and has done a lot for me mentally."
Dr. E. Andre Thorn, the Director of CASE, highlights the vision of putting Brooks Scholars in the best position to succeed during their time at MU and beyond.
"Our approach to these high achieving students is to point them in the direction that they need to go, or in some cases, walk with them," Thorn said. "We are honored to have this opportunity to work with the students in a nutshell, and make a difference in the many ways that we interface with students."
The ultimate goal is for CASE to witness their scholars cross the stage with their degrees in hand. Along the path to graduation, Dr. Thorn and the rest of CASE strive to make sure that scholars are successful in their departments, organizations and social communities.
"For many of our scholars, that's the kind of the impetus for programs like ours, the co-curricular programs like ours to place to help students facilitate and navigate their way towards all of those things that help the student become successful," Thorn said.
The support from CASE has immensely contributed to the success of Brooks Scholars. From the resources they provide to their holistic approach with the students they serve, their impact can be seen in their high retention rates.
Just this past year, the retention rates for Brooks Scholars from Spring 2021 to Fall of 2022 have outpaced MU's overall retention. For first-year scholars, the retention rate was 91% compared to MU's 88.4%. Meanwhile, second-year scholars had a retention rate of 88% versus MU's 82.7%, and third-year scholars had an impressive 100% retention rate while MU's was 56.4%.
The proof is in the numbers. Over three decades later and George C. Brooks' legacy is still being felt.