Published on May 18, 2020
This is the fifth and final installment of our "CASE Scholar Senior Spotlight" featuring Anastasia Redmond:
CASE Diversity Scholar and MU graduating senior Anastasia Redmond is ready for the future. Although COVID-19 has derailed plans of a commencement ceremony, it doesn't take away from Redmond's accomplishments at Mizzou.
Redmond is graduating with a degree in Political Science and with minors in Sociology and Psychology.
"I chose this major because I thought it would be a good segue into law school since political science is still government. I thought it would just be good to have that background information," Redmond said.
Redmond will fulfill her goal of going to law school. She is moving back to her hometown of Chicago to attend Chicago-Kent College of Law.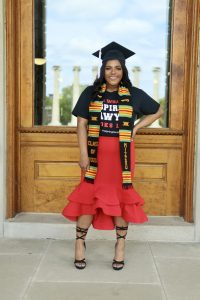 "Right after law school I do want to work for a corporate law firm, but I just want to do that for about four or five years," Redmond explained. "Then I want to go in-house. In-house is when you represent one company. I want to go in-house so I can enjoy life and being a lawyer all in one. I don't have to pick and choose which one I want to do for the day. I can kind of do the same thing every day."
During her time at MU, Redmond has participated in numerous organizations. She's served as a member of the United Ambassador Student Recruitment Team, the Missouri Black Pre-Law Association, and the Mizzou Black Women's Initiative. As a Diversity Scholar, Redmond has also been actively involved in CASE.
"CASE gives us resources and I have used multiple of them. The scholarship they gave me helped a lot. Also in regards to CASE, I would have to thank Ms. Brock. If I didn't have her I don't know where I would be right now," Redmond explained. "She wrote one of my recommendations for law school and she was always there when I was going through stuff. If I had a problem, she did any and everything to try and help me solve that problem. So, Ms. Brock is a super big reason why I was as successful as I was throughout college. Just her motivating me and knowing that I have somebody there pushed me to keep going."
Ms. Brock and the entire CASE Office wishes Anastasia Redmond the best of luck in law school. We are so proud of you!