Published on May 13, 2020
This is the second of five installments of our "CASE Scholar Senior Spotlight" featuring Thomas Cater III:
CASE Brooks Scholar and 2020 MU senior graduate Thomas Cater III is ready for the next chapter of his life. Though COVID-19 has affected his post-graduation plans of traveling, he is thrilled to begin his career in business.
After college, Cater is moving to Houston, Texas to work for a strategy consulting firm called "Bain & Company" where he will serve as an Associate Consultant.
"I'm excited to start my career. I interned with the company last summer and I really liked what I was doing so I'm excited to start and to move to Houston," Cater said.
Cater is graduating with a degree in Business with an emphasis in Finance and Banking. This wasn't his original plan.
"Initially I wanted to be a lawyer when I was going into college and I chose business as a backup kind of incase I didn't want to go to law school.  I did an internship at the state of Missouri's Attorney General's Office in Jefferson City and I didn't really like it. After doing the internship I decided that I didn't want to be a lawyer. Out of that, I chose finance-based on the classes I had in my first few years," Cater said.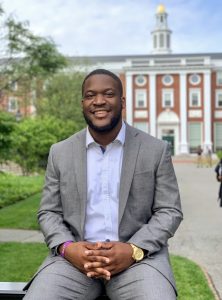 During his time at Mizzou, Cater has been involved in many organizations outside of the classroom. He's a member of the Omega Psi Phi fraternity, the Senator of the Legion of Black Collegians, and President of National Association of Black Accountants. Balancing those responsibilities on top of academics was challenging but Cater remained determined through it all. He believes the support he received from CASE helped him stay the course.
"CASE has really encouraged and pushed students to get into a lot of those study and tutoring sessions. I always did tutoring pretty much all the way up to my senior year. All of those things CASE related really helped me to stay focused and stay motivated to do my classes and succeed," Cater explained. "Outside of that, the people in there, specifically Ms. Brock, were very helpful. Whenever I had any type of academic issue or social issue, her door was always open. She made herself really available from the very beginning, to where you could just come in and talk to her. So I appreciated her, she was very helpful and allowed me to stay focused and being a support system for me."
CASE may have played a role in Cater's success, but it's his ambition and years of hard work that has paid off. As he begins his business career in Houston, the CASE Office wishes him the best of luck. We are so proud of you, Thomas Cater III.