Published on April 19, 2021
Updated on July 2, 2021
A 17-year-old Katelynn McIlwain sat in her high school English class in Freeport, Illinois—where the school mascot is a pretzel, and the closest newspaper is 40 minutes away—listening to an NPR story about postpartum death rates in Black women. This experience would literally change the trajectory of her high school career and ultimately her future.
"It was an NPR story that told the story of a woman, a black woman who died, and hearing that, it was just so emotional," McIlwain said.  "And I was like, 'This is journalism?' I was just so used to journalism, I guess at that point being just news and 400-word stories about crime. So, I think that's what first got me into [journalism]."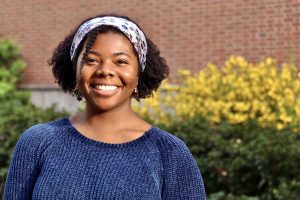 In a sort of full-circle moment that only happens when the stars truly align, McIlwain will be interning during summer 2021 for NPR at member station KMUW 89.1 in Wichita, KS as a Korva Coleman Diversity in Journalism Intern. This is a 10-week, paid internship that also includes room and board.
"I always get like, kind of emotional, the first NPR story that I'd ever listened to, was specifically about, the higher rate of black women dying after childbirth," McIlwain said.  "So, it almost feels like right now, like things are going in a complete circle for me. NPR introduced me to not only this medium of reporting but also to an issue that affects me as a black woman. And from there, I felt determined to tell more stories that can help other minorities, including myself. And now I feel like I'm getting the chance to do that."
"When I found out she was accepted to this [internship] I was really happy for her because it puts her in a stage that she wants to be at and offers her an opportunity to connect with people who see the long form of journalism as important and are able to look at areas that may not be typical or traditional areas of news agencies," CASE Student Service Coordinator, Karen Hayes said.
In retrospect, journalism seems like an obvious career path for McIlwain. Ever since she was young, she has enjoyed writing and telling stories, but she had never considered the possibility of journalism as a career.
"I've always been good at [writing], I suppose," McIlwain said. "I used to think that to be a writer meant that I had to write fiction and be the next JK Rowling. But I was able to learn through reading nonfiction storytelling, high school and also through listening to really moving stories from NPR, that beautiful stories can be told if they're real, too and there are plenty of real stories that deserve to be told in beautiful ways."
After her brief introduction to journalism in her English class, McIlwain was hooked. She was itching for the opportunity to produce her own stories. Rather than just sitting around and waiting for the opportunity to arise, McIlwain created her own opportunity.
"There wasn't a high school newspaper for a while, but I was so excited about trying to go into journalism I actually kind of rallied enough people to take the class, my junior year of high school," McIlwain said.
As fate would have it, a new teacher was coming to teach at Freeport High School after leaving a career at a newspaper in Illinois.
"This was his first year as a teacher, and he already had the desire to start up a school newspaper," McIlwain said. "My high school mascot is a pretzel and so our name was Pretz News. In my junior year of high school, I rebooted the newspaper, essentially and that was great."
This was just the start for McIlwain. If anything, the determination McIlwain showed to revive the forgotten newspaper at her school would foreshadow her future successes. McIlwain's pursuit of journalism didn't stop with the school paper, she job shadowed at the closest newspaper. During this time, McIlwain was also preparing to apply and select a college. She now knew she wanted to study journalism.
"The executive editor graduated from Northwestern University, but he told me if you want to get a good journalism education, go to Mizzou, it's not as expensive as Northwestern, and you're going to get the same if not better education there," McIlwain said.
In her senior year of high school, McIlwain and her mother made the nearly six-hour car drive from Freeport down to Columbia to check out MU in person.
"We made a trip down there, my senior year in high school, and I, of course, fell in love with it," McIlwain said.
Initially, she was fixated on staying in-state to cut down the costs of college. Her parents made it clear they would support her decision to going to college, but she would have to pick up the bill.
"[My parents] told us upfront [college] was going to be our financial responsibility," McIllwain said. "So, it meant in order to go to college, I needed to get scholarships, or do work-study or whatever, which was part of the reason why I thought I was going to just have to stay in-state, because going out of state you have out-of-state tuition."
As McIlwain dug into figuring out how she would afford MU, she came across the multitude of merit-based scholarships MU offers. She found the Brooks Scholarship application and decided to apply.
"I thought I had nothing to lose by trying, I am qualified by being a minority, I had a good GPA, pretty decent ACT score, so I applied because it gave that out-of-state tuition waiver and then more funds on top of that," McIlwain said. "I applied and I was so elated when I found out I had an interview."
Once again, McIlwain and her mother would make the nearly six-hour drive from Freeport to Columbia, this time in hopes of leaving with a scholarship. Following the interview process, McIlwain couldn't picture herself anywhere other than MU. It had the journalism school she desired, and she found something more in the Center for Academic Success & Excellence (CASE).
"It was just such a fun experience," McIlwain said. "I was honestly just so blown away by how much support CASE had for students of color. I have never seen anything like that before. Because I come from a small town, there's just not a lot of programming like CASE, so it was so refreshing."
Just a week or two later, McIlwain got a call from someone in the CASE office. She received the good news; she had been awarded the Brooks Scholarship. On top of that, McIlwain had earned other scholarships through her father's work and other third parties.
Once at MU, McIlwain started pursuing her journalism degree. She is on the magazine track and is also minoring in digital storytelling.
"My dream job would be like, being able to be a full-time writer for a magazine, and specifically, writing reviews for music, television and film," McIlwain said. "I specifically like to critique the amount of meaningful representation in our media."
McIlwain has had no shortage of opportunities to perfect her craft both as a writer and digital storyteller while at MU. As a J-School student, sometimes the workload can get overwhelming, McIlwain has found comfort and encouragement in the walls of the CASE office.
"I think the support from the leaders within CASE like Amand and Ms. Hayes has just been invaluable," McIlwain said. "I think, within the J-School I get a lot of support because of what I do and how much I produce. But I feel like, within CASE, the support comes because there's another layer. Because you are an underrepresented, minority, there's like an extra layer of care and intentionality to make sure that I feel supported."
"Katelynn allows me to be a constant in her life," Hayes said. "She was able to see what I had to offer and how that could benefit her, not in a selfish way but in a way that she would gain the things that she saw as important. She knew I was just going to offer her the best opportunities and then she could pluck what she wanted and leave the rest behind."
For McIlwain, the relationship she has built with Hayes has helped her immensely, especially during COVID-19.
"During the pandemic, we were still kind of having one-on-one meetings with Ms. Hayes, and I felt like I was just able to be so open with her about what I was feeling because of that connection, we'd already formed," McIlwain said. "It was one of the first times I was actually able to hear from another faculty person, like, you're not crazy for being really worried about this pandemic, or like your academics, you know, if they take a hit this semester, that's okay."
Hayes also values the relationship she and McIlwain have cultivated over the years.
"My relationship with Katelynn is very strong because it's built on mutual respect and an academic thirst," Hayes said. "Our relationship is like a mentor-mentee but not in the traditional sense. I am not in her field. I am not someone who could help her in journalism, but I can help her with looking at how to have a great life, better opportunities, and building relationships and so all of that is what makes our relationship."
As for what's next for McIlwain, after she completes her summer internship with NPR, she will return to MU to complete her senior year and graduate with her bachelor's degree in Journalism, May 2022. McIlwain is also doing the accelerated master's program through the J-School and will receive her master's degree in May of 2023.