Published on Nov. 4, 2022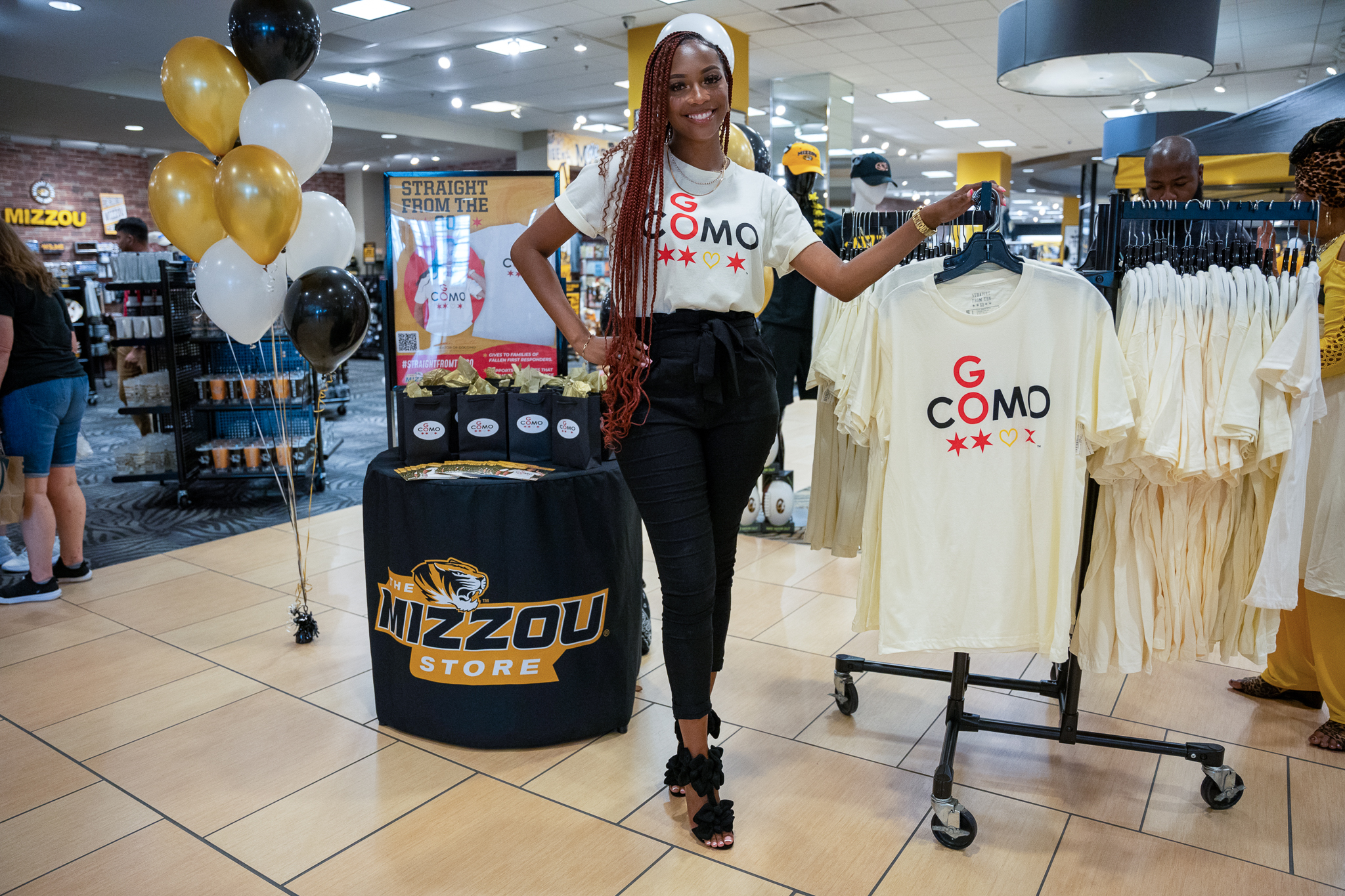 On Sept. 16, the Mizzou Store welcomed a new addition to its vast selection of clothing lines: the "GO COMO" collection. The off-white shirts featuring red and black lettering were neatly displayed on clothing racks. Black and gold balloons filled the entryway to celebrate the launch as creator Raven Smith stood in front — soaking in all the support as she was being photographed from every angle while family and friends looked on with proud smiles on their faces.
The debut of "GO COMO" was in the making for over a year but was postponed due to the COVID-19 pandemic. It finally came to fruition during Raven's last year at MU.
"It's crazy, but it's very exciting and I'm so happy to see it actually be successful," Raven said at the launch. "I'm just so happy to finally be here at this moment because I've been waiting for so long."
This is Raven's second clothing line in the Mizzou Store, but her third overall. Raven is no stranger to creating successful brands as she started her first one, "Straight From the Go", when she was just a senior in high school. "Straight From the Go" gained national attention, and Raven was able to speak in front of around 15,000 at Allstate Arena in Chicago for WE Day 2016 when she was just 17 years old.
The following year she became the youngest recipient of the PrivateBank Norman Bobins Leadership Award at 18 years old. She was making TV appearances on media outlets such as CBS Chicago, Windy City Live and WGSN Chicago and was recognized by figures like former Chicago mayor, Rahm Emanuel, and former First Lady, Michelle Obama.
Being from the south side of Chicago, Raven knew that she wanted to start a movement to represent her home and battle the harmful stereotypes that people associated with it. It wasn't an easy ride, but it resulted in memories that Raven never knew she would experience.
Raven is now 24 and a Diversity Award scholar receiving her second degree in Textile Apparel Management at MU. She will never forget what it took to get here. She went from selling t-shirts out of her bookbag at school to starting a movement across the country.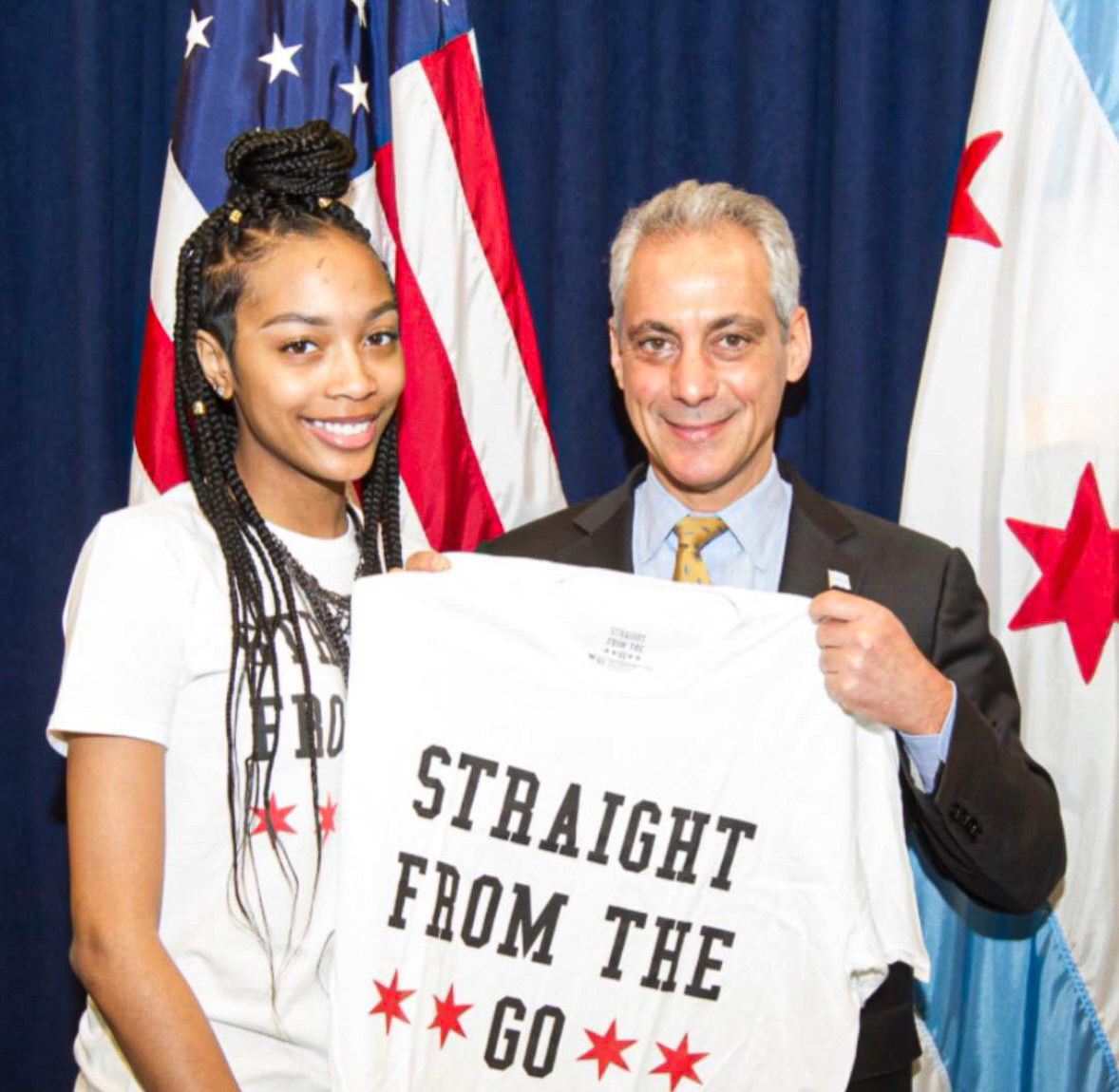 All good things from Chicago
According to Raven, 2016 was the height of drill music and the content of this genre by rappers in Chicago highlighted the violence that occurred in the city. The term "Chiraq" was coined by drill rapper King Louie in 2009 and the name became more common as gun violence increased and movies like Spike Lee's "Chiraq" gained popularity.
Raven grew tired of the constant narrative being spread about gun violence in Chicago.
"I think that was just kind of my mindset going into creating Straight From the Go," Raven said. "How can I change the narrative for people from Chicago to be very prideful about where they're from, but also for outsiders to know 'Okay, this is a great city.'"
While driving home from school, Raven saw a Chicago flag, and the idea sprouted. She called her parents and told them her plan: to create 'Straight from the Go,' a clothing brand that would represent all good things from the city of Chicago.
"At that time, I wasn't really sure if it would be a business. At that time, I thought more or less it would be more of a movement," Eraina Nicholson, Raven's mother, said.
After Raven and her parents discussed the brand more at home, Nicholson was sold. She believed her daughter had what it took to start her own brand.
"I knew that it was something that Raven could do because she's a leader," Nicholson said. "She's quiet spoken, but she is a leader and she pays attention to detail. She's a very determined individual so I knew that if it was something that she had a vested interest in, it would be successful and it was and is."
Raven worked with her parents to trademark the phrase "Straight form the Go", and they started purchasing t-shirts wholesale and printing the logo on them. Her father, Samuel Nicholson, even sold his brand new Cadillac to help fund the business.
"The vision was Raven's and being a dad, a proud dad, my focal point at the time was just to support my baby," he said.
The original "Straight From the Go" merchandise features the iconic phrase and the four red stars of the Chicago flag. Raven debuted the t-shirts at her alma mater, Morgan Park High school, by having the basketball team wear them at a tournament.
"Once everyone saw the team, they were just like 'Oh my God, what is that?'" she said. "I also had on a shirt too, so people were coming up to me asking me what was going on, and then from there, I was just getting interviewed left and right. I started selling the t-shirts out my bookbag at school."
"Straight From the Go" received attention not just in Chicago, but nationwide.
"'Straight From the Go' is a positive brand, but it's not just a brand, it's also a movement," Raven said. "So you don't necessarily even have to be from Chicago. If you believe in serving your community and giving back then you're the perfect person to support."
The brand is sold online and in over 50 stores including stores in Chicago O'Hare International airport.
Portions of the sales from "Straight From the Go" are given to victims of gun violence, put towards positive initiatives around Chicago and donated to the 100 Club of Illinois, which helps the families of fallen first responders.
Raven's decision for the brand itself and for the proceeds to be donated to these causes stems from her own experiences with gun violence while growing up.
"People are getting killed left and right, and even just being from Chicago, everyone is affected by it," she said. "Even if it wasn't firsthand, like if it wasn't a sibling or a family member, you might know someone who's your friend whose cousin was killed. So I think that was the real driving force behind it — just wanting better for where I'm from."
Raven's hard work gained the attention of former Chicago mayor Rahm Emanuel who gave Raven her own resolution that was put in the mayor's office. Through the support of former Secretary of State, Arne Duncan, who is a childhood friend of Raven's father, Raven was able to get in touch with Michelle Obama. The former First Lady then wrote Raven a letter, thanking her for her commitment to the Chicago community.
"Our strength as a country and our ability to responsibly shape our future depends on passionate Americans who dedicate themselves to improve their home communities," Obama wrote. "Your example of service shows once again that each of us can make a difference for those around us. You have my very best wishes, and remember, I believe in you!"
Raven was in disbelief.
"It was crazy," Raven said. "I still can't believe it to this day. Even just with [the Obamas] being Chicagoans, it meant so much to me. I don't know. It's still unreal. A lot of the stuff that I go through is unreal, especially with 'Straight from the Go' and being such a young African American woman from the south side of Chicago."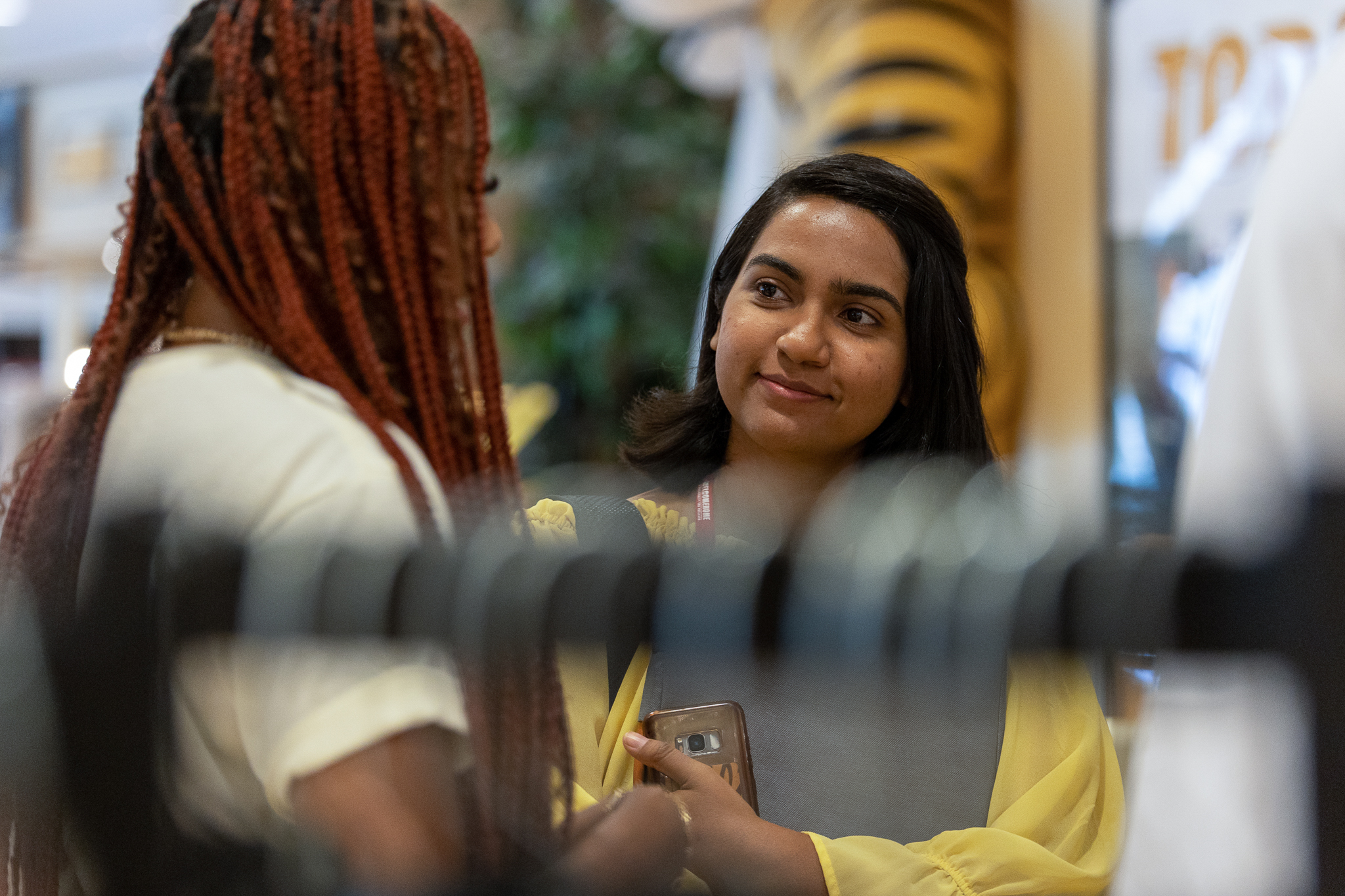 GO COMO
Going to MU was not originally in Raven's plans. She first applied to Millikin College in Decatur, Illinois because her cousin went there. Her parents preferred Raven attending a university with a familiar face since she's an only child. It was smaller and closer to home.
However, all of that changed once Raven came to Columbia to visit her friend and now, Alpha Kappa Alpha sorority sister, while she was in high school. When Raven stepped on MU's campus, she immediately knew it was the place for her.
"Once I came on campus, I loved everything about it," she said. "All the resources that we have, just the fact that you can go and swipe your ID and get a laptop if you need one, and going to the Student Success Center and doing those mock interviews and stuff like that. Even just seeing how beautiful campus was it was like stepping into a garden like it was off a movie."
Raven began working towards her first degree in the fall of 2016, majoring in health sciences with an emphasis in athletic training. She felt like the narrative was always pushed that majoring in a STEM would make her the most successful. She combined this mindset with her passion for sports.
Her interest in athletic training also came from her father injuring himself and not being able to continue playing basketball.
"I felt like if my dad had a great athletic trainer, then he probably would have been in the professional league at this point," she said.
However, athletic training proved to be difficult. Raven was one of only thirty people accepted into the program.
It required Raven to have clinical hours and work with the different sports teams on campus. She was very busy with her major and found support through the Center for Academic & Excellence, specifically with student service coordinator, Ana-Maria Fernandez.
"In college, you have to take that extra step, so even just getting advice from Ana-Maria Fernandez and going to the Student Success Center, I really thank their program because it definitely helped," Raven said. "Those first few years were really tough for me so just needing that constant encouragement, needing that help definitely helped me become who I am."
Raven was in Fernandez's CASE Health Professions Cohort in the Fall of 2016. The two developed a close relationship. During their one-on-one meetings, Fernandez learned about "Straight From the Go."
"I was very impressed with the manner she expressed her feelings, not boasting but being very genuine," Fernandez said. "Raven is a very kind, gentle and caring person. She enjoys helping others."
After graduating in 2020, Raven decided to return to MU to get her second degree in Textile Apparel Management with an emphasis in product development and a minor in business.
"I've always been very passionate about fashion… So once I found out about the TAM program through my peers, I was like, 'Yeah, that's for me. I'm supposed to be doing that,'" she said.
While in the TAM department, Raven was part of a team that won a competition to create a clothing line for the Champion brand. They were tasked with determining what the Mizzou Store needed that they could provide. The group decided that they didn't see enough items with neutral colors, and created the "Vault" collection that showcases vintage MU apparel from the past. The collection is available at the Mizzou Store.
To top it all off, Raven was able to extend the "Straight From the Go" line to Columbia with the "GO COMO" line. With the increased amount of violence occurring in Columbia, Raven wanted to spread positivity to a place that she cherishes so much.
"Columbia has become her second home," her father Samuel Nicholson said. "Raven came here right before age 18. She's 24. We really thank the city and the university for helping mold her into the beautiful and accomplished young lady that she is today."
Just like "Straight From the Go," a portion of the proceeds from "GO COMO" will be donated to local causes. The money raised will benefit the Molly's Miles foundation in Columbia to help those who have lost their loved ones in the line of duty.
Raven calls "GO COMO" a "full circle moment" for her and her career. She thanks her parents and the university for the constant support she was given through her entire journey.
As for future plans, Raven wants to keep "Straight From the Go" running for as long as possible. She also hopes for the "GO COMO" line to stay at the university even after she graduates. She wants to pursue a career as a fashion designer or anything that involves fashion. She is interested in social media as well.
Raven's story is one that can inspire many to keep trying. She encourages anyone who wants to start their own business or even someone who is having a hard time keeping their head up — to never quit.
"Never give up. Always strive to do better, and you can always reinvent yourself," Raven said. "It doesn't matter however many times it takes to do that. It doesn't matter because it's your life and you're the one who has to be happy with it at the end of the day."