Published on April 26, 2018
As Ryan Cobb and Jerome Young reflect on their time at Mizzou, they are most proud of the legacy they will leave from their time working with the United Minority Network (UMN). UMN is an on-campus organization whose mission bridges the gap between minority undergraduate students and minority professionals, providing a unique opportunity for networking, mentorship, and professional development. Although the organization's initial mission is to reach forward and provide access to Mizzou students, UMN has recently highlighted the importance of reaching back to younger students.
"UMN was originally founded by Breon Woods, and in fall 2017 JJ (Jerome) and I were able to take over and expand it," says Cobb, UMN President. "It's been an honor to see the transformation and what we've done in such a short amount of time."
The organization has paired with Men of Color, Honor and Ambition (MOCHA), a program in partnership with Columbia Public Schools, MU Division of Inclusion, Diversity and Equity, and Dale Carnegie and Associates, all of which are geared towards underrepresented students. Now offered on the high school level, MOCHA provides mentoring for high school students in the Columbia area through social events. Cobb and Young recently showed off their skills in an intense basketball game at Hickman High School.
"Mentoring allows someone to have representation they might not otherwise have," says Cobb. "It's huge, and it means everything to me."
After the game, MOCHA men were paired with their UMN mentors, something Young was especially excited for.
"I'm ecstatic to have conversations with my mentee that I wish someone had with me," he says. "I can really get to know him and think about the impact I want to have on his life."
Roman, who is a sophomore at Hickman and member of MOCHA, shared that same excitement.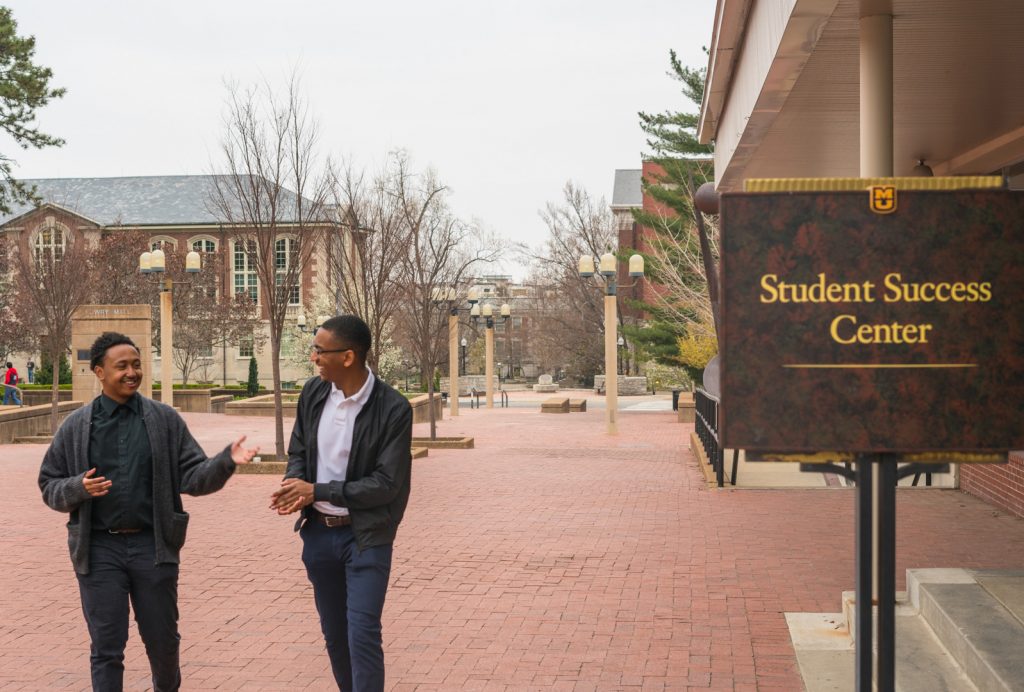 "Growing up, I was never the type to ask for help, so I'm excited to learn more through my mentors and see where they came from because they're older and have been through it before," he says.
Young and Cobb attribute much of their support and success with UMN to Donnell Young, director for the Center of Academic Success and Excellence (CASE) and advisor for UMN. Cobb and Young are also CASE Scholars who have worked closely with the office throughout their time at MU, helping them find the skills to not only be successful themselves, but help their members do the same. Young feels that through what he has learned, having the opportunity to mentor others feels amazing.
"Being able to lead UMN and now be a mentor has been great," he says. "I'm able to provide the advice that I wish I had coming to college."
Although Cobb and Young are set to graduate in May, both are confident that UMN will continue its legacy on campus and get stronger year after year.