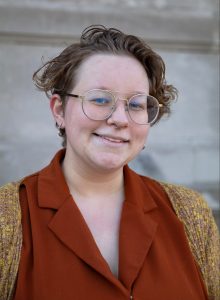 Abigail Ruhman
Marketing Intern
Biography
Abigail Ruhman will graduate from the University of Missouri in December 2022 with honors, majoring in Convergence Journalism (emphasis in Radio), Sociology, and Women's and Gender Studies. In addition, they will have achieved a writing intensive certificate and a multicultural studies certificate, while minoring in History, Peace Studies, and Leadership and Public Service.
Ruhman is the recipient of the Missouri College Media Association's Newspaper Division 1 Column Writing Award (2020), the MU LGBTQ resource center's Catalyst Award, the University of Missouri Award for Academic Distinction, and the Association of Healthcare Journalists Academic Fellowship. They have received Student Training for Advancing Research (S.T.A.R.) Recognition, were a participant in the CONNECT project as part of the 2022 NGLJA convention, and are actively involved as a research assistant for the Department of Women's and Gender Studies.
Abigail works as an Associate Producer for the local NPR member station KBIA "High Turnout Wide Margins" podcast, an Emerson grant project.
In March 2020, Ruhman joined the CASE marketing team as a feature writer and has produced several impactful stories highlighting the achievements of MU's underrepresented minority students. In Spring 2022, they transitioned into CASE's editor role.
Ruhman recently completed an internship with The Center Project, the first and only community LGBTQIA+ resource center in Mid-Missouri, and continues to be involved as a volunteer. This fall they will be interning at True North, a comprehensive domestic and sexual violence survivor service program.
As a student journalist with KBIA, Ruhman has produced work for Missouri on Mic and Missouri Health Talks. They have also served as a day-turn/feature reporter and producer, and an on-air anchor. Other projects of theirs were featured on KOMU TV and in Vox Magazine.
While they are unsure of where Mizzou will lead them, Ruhman hopes to become a fiction author at some point in the future.