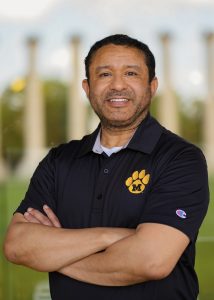 Leo Medal
Student Service Coordinator II
Email: lmedal@missouri.edu
Biography
Leo joined the Center for Academic Success & Excellence (CASE) as a Student Services Coordinator II in August 2022. He comes to MU from the University of Alaska Anchorage Multicultural Student Services (MSS) where he worked from 2012-2022. Leo served as the Student Success Coordinator for the AHINA Program, serving students at all levels with the purpose of promoting a sense of belonging, leadership, student development and academic success. AHAINA is the acronym for African American, Hispanic/Latino, Asian/Pacific Islander, International and Native American students. Prior to joining MSS, he served as the middle school advisor for the TRiO Educational Talent Search (ETS) Program (2009- 2012).
Leo graduated from Wayne State College in Wayne, Nebraska with a BS in Computer Information Systems (MIS), a minor in Business and a Master's in Science in Education (MSE) with emphasis in Communication Theory.
My study abroad experience includes attending Palacký University Olomouc, Czech Republic where I studied European Studies (post-communism systems), Culture Experience in Northern India, Service Learning in Volos, Greece, and Intercultural Communication Project in San Jose, Costa Rica.
I love working in higher education and supporting student success. Mizzou is a larger institution than the one I came from with a diverse student body, and it is closer to family. I am looking forward to learning more about the students at Mizzou and how best to serve them. I am eager to learn more about the great state of Missouri, and building a dynamic working relationship with CASE's team and our scholars.