Published on April 1, 2019
When most high school seniors think about how they would like to spend their summer after graduation, getting a head start on their college careers is probably the last thing on their minds. At least, that was the case for me when my mother told me that I would be applying for the Center for Academic Success and Excellence (CASE) Summer Transition Program (STP).
This time last year, my mom and I took the two hour drive from St. Louis to Columbia for one of STP's recruitment days. Myself and other prospective STP participants sat through a presentation given by the program's coordinator, Justin Light; we played games, had an formal interview with a CASE staff members, all while being guided from each location by a former STP student.
The day moved quickly as did my heart, pounding heavily in my chest as a response to my anxiety about the day. However, the informal structure of the day –aided by a competitive exercise utilizing spaghetti and marshmallows—helped to calm my nerves. Days later, I received a call from Justin telling me I was accepted to the program, and weeks later I was off to experience what I now know to be one of the best summers of my life.
Fast forward to my second semester of my freshman year of college, almost a year after my STP experience, and it is now time to wrap up recruitment for STP, now called CASE Scholar Bridge, class of 2019. When Justin sent out an email blast, calling on volunteers to help with recruitment on March 16, I was more than happy to lend a hand. When the day finally came, however, I was transported back to my experience as a prospective student. Waves of nervous energy washed over me as I changed into my black and gold attire. However, after stepping into Tate Hall and seeing the familiar faces of CASE staff members and scholars that have now become family to me, that anxiousness went away.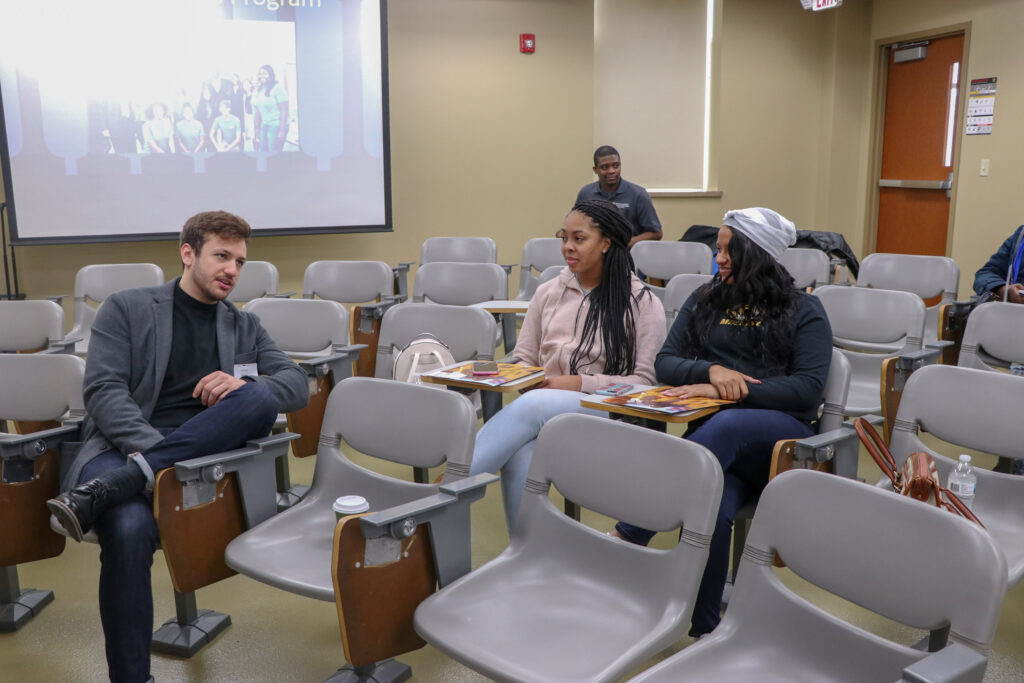 The day was more or less how I remembered it: there was a presentation (that felt slightly longer than I remember), from there I led my group to their interviews, the classic spaghetti and marshmallow game, and finally a panel of former STP students.
In between each activity, I talked to the students in my group and I must say, I was surprised. No student was the same; they were musicians, athletes, debate club members. Some were more reserved than others, but with the questions they asked during the walks to other buildings and in the panel, I came to realize that they are also curious and impassioned individuals.
Once the main obligations of the day were over, past and prospective CASE Scholar students and CASE staff headed to lunch. With everyone back together it felt like a family reunion. We reminisced about stories of the summer, as well as heard about what people are now up to. Listening to STP '15 and '14 talk about next steps as they prepare to graduate, as well as my STP class talk about the jobs they have, the research they're doing and the successes (and trials) they're having in their classes made me realize something. Not only am I happy to know that my friends and peers are thriving, but I am incredibly proud and inspired by their growth. At one point, not too long ago, we were fearful and uncertain about what MU had in store for us. But with the help of CASE and the support we gave each other, we have been able to create a space for ourselves and move confidently throughout this campus. And that is what I see for the students of CASE Scholars '19.
The most amazing part of the day was talking to the students. Not just because they're funny, smart and somewhat naive to what awaits them in the fall, but because they are oblivious to how much potential they have. Some are shy and soft spoken, while others are confident and boisterous. They come from different cities and backgrounds and have different skill-sets and levels. Regardless, they will all face challenges in the summer and beyond that will force them to grow into the capable adults they are meant to be. For some students it will happen faster, while others may only become aware of their immense potential as the summer comes to a close. Either way, when the students of CASE Scholars '19 harness the potential they have—the potential that the CASE staff and former STP students see in them—they'll be unstoppable. And I, personally, cannot wait to see what they can, and will, do with it.