Published on April 7, 2023
Author's Note: This is a feature story written from the author's personal perspective and opinion upon gathering the information and also being a part of the Black community herself.
'Where did you get your nails done?' 
'Ooo girl! I love your hair. Who did it?' 
'Who did your makeup? It looks amazing!' 
Those are the questions we hear almost every single day within our Black community here on MU's campus. We complement each other and get all excited because we look and feel good! Now there's just one question left to answer. Who are the people that make us feel this way? 
With talented people who are ready and available to the Black community with their resources, a beautiful new community is created. The importance to us is unlike any other. As we continue to use them, we constantly are reminded of how amazing we are as we grow together as one — when we bring each other up with our love and support.  
Let's meet the people who provide our nail and makeup resources when we are away from home. They are full-time students but find a way to do what they love for others.  
It's a beautiful thing what the Black community can do for one another as we make it through college life. Everyone is taken care of, and no one is left behind. With the drive and dedication our business owners have, this legacy will continue for quite some time. 
Beauty in a Bottle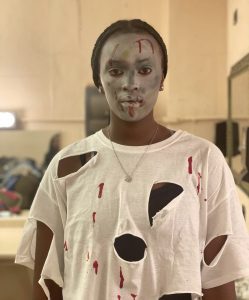 The first business I would like to introduce is called "Beauty in a Bottle". It provides makeup resources that vary from dramatic to subtle and even special effects (SFX) makeup. The student who runs this talented and fascinating business is senior Diversity Scholar Alana Hayes.
Hayes is from Memphis Tennessee, majoring in film production with a double minor in digital storytelling and theater. With her business, she focuses more on darker skin due to a small number of artists in the Black community specializing in different skin tones.
As she continues to work, she hopes to impact people all the time as they leave her chair, after being glammed up.
"It helps boost your confidence, just because some people don't really know how to do their makeup. And if they have a special event, they're like: 'Oh, well, I want my makeup done, but I don't know anybody.' And it's they have somebody that looks like them that can do it," Hayes said. "It's also like a free little therapy session, as well. You get a really close bond with somebody that's close to you — and they're working on your face. And you know, nobody really wants to just sit in silence. So, you do get to learn a lot about them and what their life is like, and you just kind of become like an interesting friend."
From St. Louis, to Truman, to Jefferson City and to Columbia, Hayes has been many places to share her talent with her clients. She hopes to reach her clients in any way that they need, not just as a makeup artist.
"I really hope that I can make their day better. So, I try to encourage more self-love and just do things that enhance what you already have because God made you beautiful. I encourage no negative self-talk because even if you're joking, your brain and your body, they don't know that you're joking," Hayes said.
Enhancedbyreese
We have our second business, which is called "Enhancedbyreese". This business provides a variety of artistic nails as well as makeup for the clients, who have the nickname of 'dolls'. Senior Aireeyce Bonner is the one spices up her clients' nails of this business.
Bonner is from St. Louis, Missouri majoring in biological science. She has been doing this business since she was in high school where she began with lip gloss and lashes. With a leap of faith, she jumped into nails and continued her journey into college.
As she balances her schoolwork with her business, she keeps in her mind the impact that she is having on her clients as they come to her to get their nails done.
"It's not just my business to me, is not just service, it's not just a hobby. It's not something that I just did just to make some extra money. It's a ministry to me, you know, I get the time to really bless my clients," Bonner said. "And that's something I think is important. So, it's a great opportunity, not only for me, but for my clients, because they don't have those resources, especially going to a predominantly white institution. So, I make available resources that they may lack here." 
Being a Black business on a predominantly white institution is more than just taking clients. It is something that business owners do because they see that we as black students, need our people to continue that community that has been created.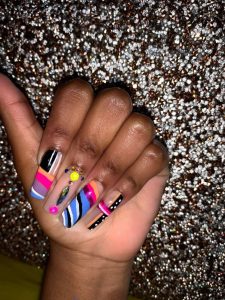 "It's about giving back, you know, making them feel welcome and having a space because sometimes I know that we can feel excluded, whether it be just walking in our classrooms, or just being on campus in general," Bonner said. "And so, those moments [when they get their nails/hair/makeup done] is their time to shine and just feel safe, and feel comfortable, and be able to feel like they're in a free space to express themselves. So just to have a moment to just breathe and relax, you know, so I think that's very important, as far as you know, having that resource."
One of Bonner's clients, senior Bailey Sims, is a fairly new but frequent client of hers. She expresses the gratitude of having a resource like Bonner since she started going to her back in September of 2022.
"I know for me, coming to a PWI [predominately white institution], it was a culture shock," Sims said. "And so being able to lean on Black Mizzou, and have it feel like a second home with all the people that you befriend, is really good. So, especially having people that like, you know, do hair, do haircuts, do nails. It just feels natural, like I am at home."
NailsbyKellz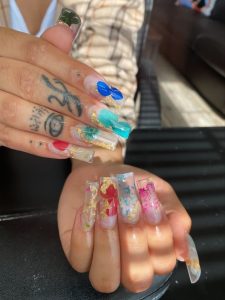 Our third business is called "Nailsbykellz". This business brings nails to the table with different techniques and colors. Sophomore KC Scholar Kailey Williams is one who makes art come alive with her clients' nails.
Williams is from the South side of Chicago, as a pre-med health science major with a psychology minor. She's been doing her business for four and a half years and was started because of feeling like her company was not valued as she went to nail salons herself. It was time to take matters into her own hands.
Williams has a strong connection to her clients as she provides her resources. It is more than just an appointment when you sit in her chair.
"I hope that they [my clients] gain a great service provider," Williams said. "I'm not here to take your money. I want you to understand this is what's best for you, that's what I think is what's best for you and if you'd like to continue to keep coming back, I want to provide that for you."
With William's business, she has been nothing but successful. Only in her second year of college, she does her best for her clients because of her want to be the one people turn to, not only for nails, but for a friend who they can talk to.
"I feel that a lot of the services that are provided outside of the students here on campus, they're not catered towards people of color," Williams said. "Although they want certain things, I want to be able to give them what they need. I feel like my clientele, we're like family. We're like sisters, cousins, aunties, like we develop very strong relationships with each other. So even outside of me providing a service to them, this is also me providing a friend, a shoulder to lean on between anything."
Her clientele continues to grow as more people are interested in her work. One client of hers, junior Tehya Frederick, who just started going to her last semester, has grown mentally because of the impact Williams has had on her.
"[Williams] is literally amazing and her nails give me so much confidence," Frederick said. "I had really bad confidence issues for a while but that's why I started getting into nails. It was to just give me that extra layer and her nails just made me so happy, they give me confidence. They make me walk around, feeling bigger." 
Another one of her clients, Senior Asya McDaniel, who has been going to her for nearly two years now, had the opportunity to watch her grow and see the effect William's business has left on the black community on campus.
"She evolved, you know, with the material she used and stuff like that. But I feel like even when I went to her in the beginning, she was already well established. I think it's really nice to have [these resources/William's business], especially for incoming freshman", McDaniel said. "Because [the] incoming freshmen in Black Mizzou, it's like: 'Okay, we trying to figure out where we can go, where we can feel safe.' And instead of going around Columbia, exploring and having those terrible experiences, it's nice that we actually have people on campus that can provide us with the services we need, especially since it's so sparse here. The way that we do nails, the way we do hair—we're not going to get what we want from Columbia. We have to get it from within our community."