Published on Oct. 20, 2022
Hello CASE scholars, families and supporters,
We are over halfway through the fall semester so I wanted to highlight some time sensitive items for you to consider.
Academic Resources: At this juncture in the semester, you may be feeling stressed or challenged by one or more of your courses. Utilize academic resources: The MU Learning Center (located on the main floor of the Student Success Center hosts tutoring in a number of subjects. In addition, Academic Coaching, the Writing Center and others academic resources are available for FREE until December 8th! Get in now if you need additional support in those high D,F,W courses! If you don't know what those are, please let us know.
Minority Health/Wellness activities:
The Federal Student Aid (FAFSA) application site is now open for applications (and reapplications) for the 2023-2024 school year. Apply here!
Want to ask Mun Choi a question? Come out to the Missouri Students Association's first Town Hall of the year! It's today, Thursday, October 20th from 5 to 6:30 p.m. at Stotler Lounge located in Memorial Union. It will feature a stellar panel consisting of President Mun Choi, Dr. Bill Stackman, Dr. Maurice Gipson, Dr. Rhonda Gibler, Dr. Jim Spain, MUPD Chief Brian Weimer and MSA President Josiah Mendoza. Come have your voice heard! We look forward to seeing you there!
Diversity Abroad Conference: I wanted to share that I recently returned from San Francisco, California where I attended the Diversity Abroad Conference. Dr. Miguel Ayllon, MU's Executive Director for International Partnerships & Study Abroad along with myself, Dr. E. Andre Thorn, Director of the Center for Academic Success & Excellence (CASE), presented a workshop entitled "Trust-Based Strategic Relationships to Accelerate Inclusive Excellence in Education Abroad". Our presentation highlighted our work over the past year that has contributed to increased numbers of URM students engaging in Study Abroad opportunities with intentional collaboration partnerships between CASE and the International Partnerships & Study Abroad Office.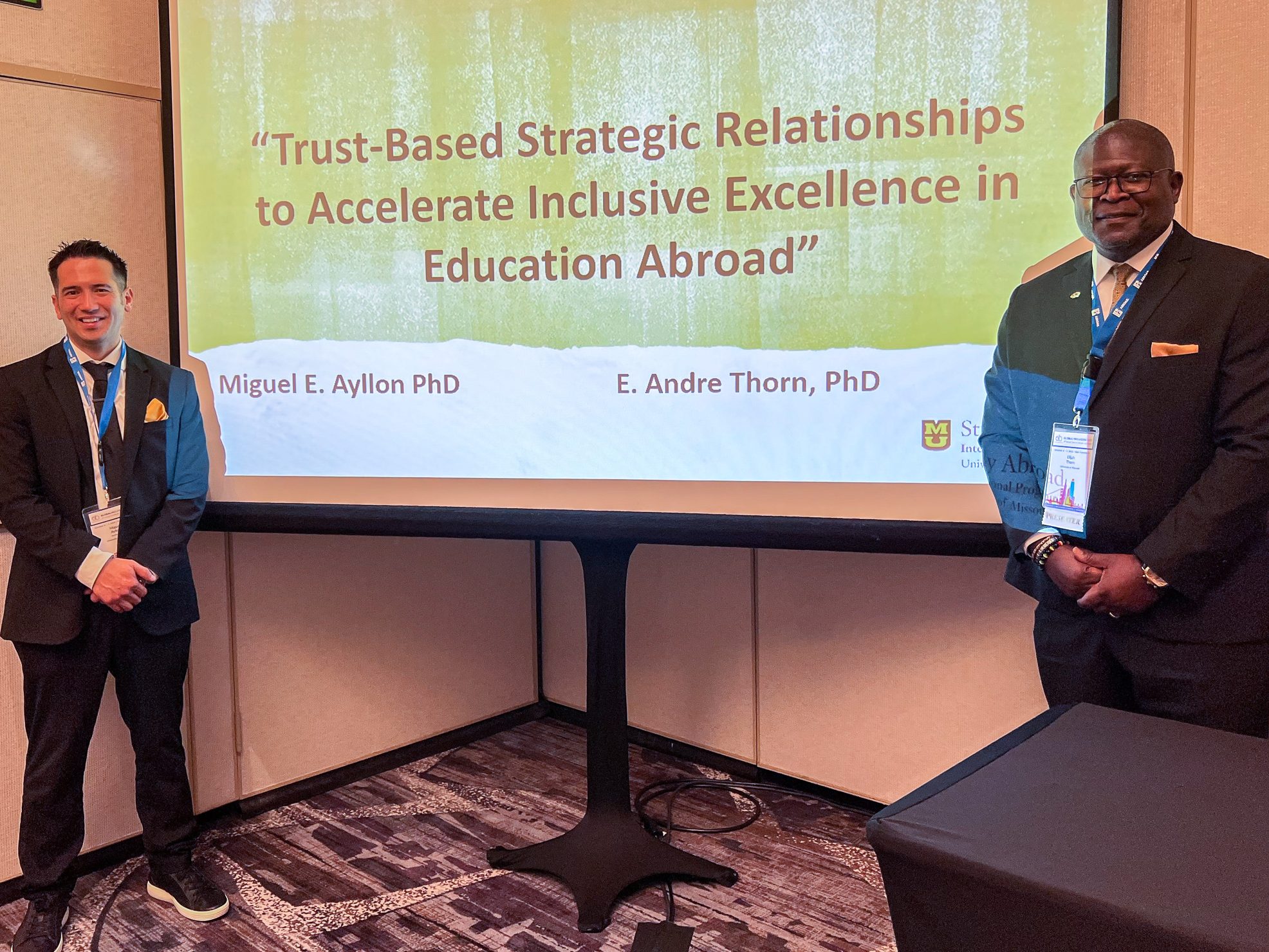 As always, Please let us know if you need anything or have any questions.
Wishing you all the Best!
#WeAreCASE
E. Andre Thorn, Ph.D
Director, Center for Academic Success & Excellence (CASE)
"Serving Students Since 1995"
110 Student Success Center, 909 Lowry Mall
Columbia, MO 65211
P: 573-882-9208
F: 573-884-4353
www.case.missouri.edu
Indigenous Peoples and Lands Acknowledgement:
I would like to acknowledge that I work in what is colonially known as "Missouri," and that these were the homelands of the tribal nations of the Nutachi (Missouria), Jiwere (Otoe), Wahzhazhe (Osage), Ogáxpa (Quapaw), Chikasha (Chickasaw), Illini, and Báxoǰe (Ioway), among others.