Published on Sept. 28, 2022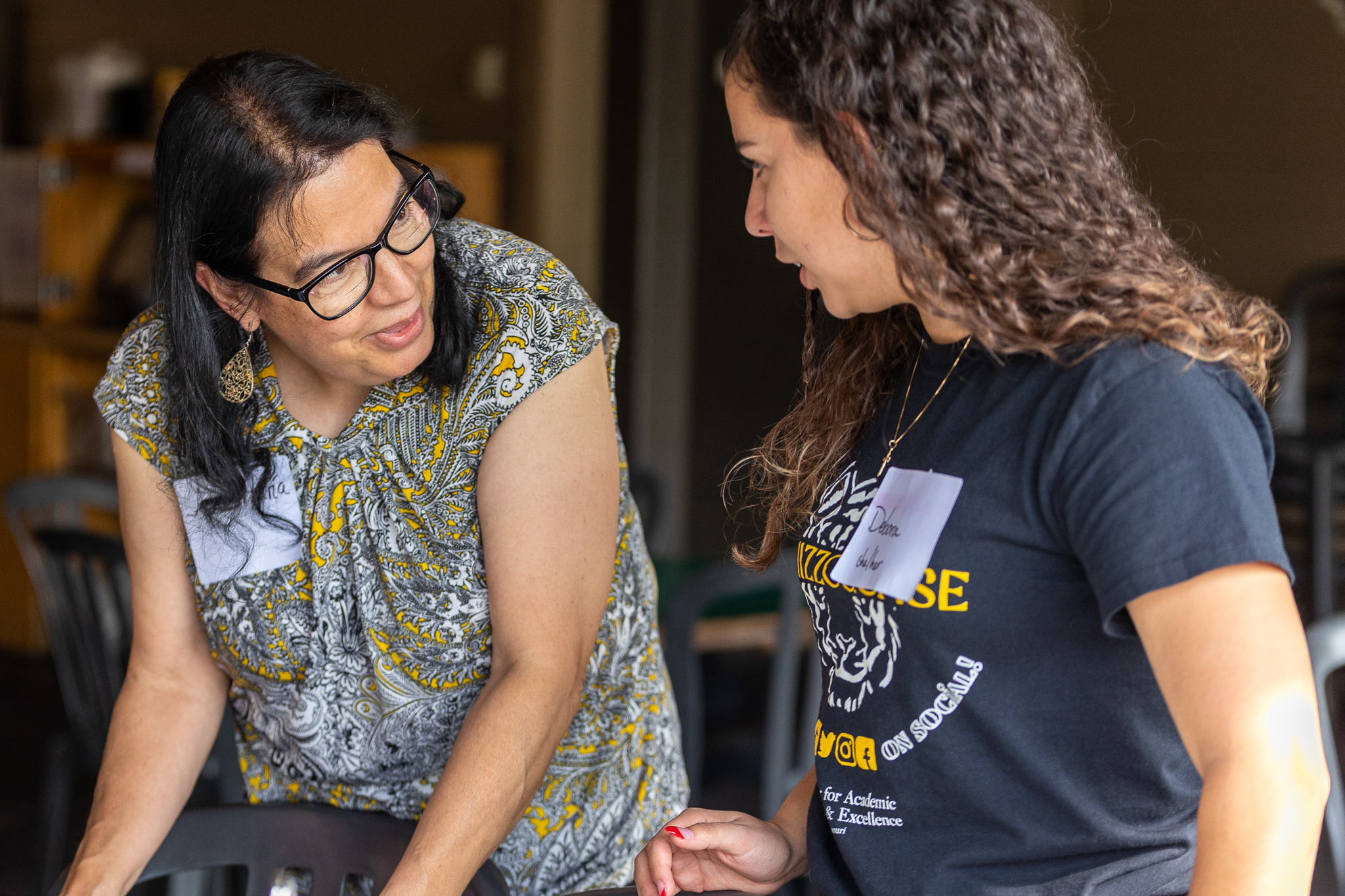 There are many meanings of success, so it's difficult to define what it looks like for one individual to the next.
The KC Scholars Meet & Greet on Sept. 15 at the Heidelberg demonstrated a perfect example of the holistic definition of success.
KC Scholars chatted with one another on a sunny afternoon on the rooftop patio of the restaurant. As scholars filled seats, the Center for Academic Success & Excellence's staff provided name tags and a warm welcoming attitude.
The KC Scholars Scholarship program began in the fall of 2016 with the mission of increasing postsecondary education attainment in the greater Kansas City area. They lower the barriers to attend college through scholarships, financial incentives and support services for low- and modest-income students.
At the University of Missouri, CASE is the bridge between the program and scholars. In fact, earlier this year, the collaboration between KC Scholars and CASE helped 64.4% of KC Scholars graduate in four years with an average cumulative GPA of 3.358.
"[The KC Scholars Scholarship program's] biggest strength is reminding you that anything is possible. And really, it's part of coming into yourself while you're away from home," Aris Holman, a junior KC Scholar, said. "I think they do a great job of empowering you."
CASE Student-Service Coordinator Ana-Maria Fernandez's face lit up every time she spoke with a scholar at the event. She has been an integral part of the program at MU for four years and leads cohort meetings with KC Scholars beginning their freshman year. The meetings focus on CASE's five pillars: academic enrichment, financial literacy, sense of belonging, career development, and overall wellness. Fernandez frequently checks in with every student during each semester to ensure they have what they need to succeed.
"These KC Scholars have demonstrated a lot of courage and resilience by graduating from high school during a pandemic," Fernandez said. "Their eagerness to learn as much as they can while at Mizzou [also stands out to me]."
After Dr. Andre Thorn, Director of CASE, Fernandez, and the rest of the CASE staff gave a brief speech to the scholars, everyone lined up to eat some Heidelberg-classic appetizers.
Various conversations and stories of successes bounced around from table to table. Some scholars told others how they received the KC Scholars Scholarship. Junior scholars discussed the futures they've built because of the program. Freshman scholars expressed excitement and appreciation for their ability to be at the University.
Being able to attain a postsecondary education is a success already, but through CASE's support services, and the KC Scholars program, scholars at MU achieve a more holistic definition of success. Attaining clearer expectations of the future can also be a part of the definition.
Nez Redi, a junior KC Scholar who's currently working on his clothing brand VSNFirst, said CASE and the KC Scholars Scholarship program have helped him make important connections and explore new opportunities.
Twins Aris and Ashtin Holman are also juniors in the KC Scholars program. They both aim to go into international business, but just like other KC Scholars at MU, without the support of CASE, their current and future success would be less clear to them.
"CASE has definitely empowered me to have confidence in myself and my abilities," Ashtin said. "[They've pushed me] to go after my biggest dream and not settle for what I think [will pay the bills]."