Published on May 10, 2023
The State Historical Society of Missouri Center for Missouri Studies was the site of a memorable event on April 27, 2023 at 6 pm as the Center for Academic Success and Excellence (CASE) held a graduation ceremony to honor the achievements of the Class of 2023. The evening was filled with joyous goodbyes and celebration as guests enjoyed dinner and watched a heartwarming slide show featuring the graduating seniors.
As the CASE scholars took their seats, they gathered together in groups, reminiscing like a close-knit family. In addition to the in-person attendees, parents from across the country joined the celebration via Zoom to share in the excitement of their children's achievements.
Conversations flowed freely as the night progressed, and attendees caught up on each other's lives, discussed future plans and thought back on their time at MU. The event highlighted the graduates' strong bonds with one another formed through CASE over the years. Memories all the way from the beginning of their MU journeys up to the end were shared and never to be forgotten.
"CASE has really meant a lot to me because I remember it freshman year coming in, and it built a community that supported me," Brooks Scholar Nia Martin said. "I felt that was really essential in my college success overall."
As students finished up their dinner, CASE Director Dr. Andre Thorn took the stage. He bid them farewell, and shared his gratitude to them "for making a significant difference."
Reflecting on their hard work and the countless memories they created during their time at CASE, Thorn acknowledged he was always "supporting them in their efforts to persist and graduate the University of Missouri."
Thorn's words were met with applause and cheers from all of the guests, including KC Scholar Roman Leaphart, who reflected on the valuable support and guidance he received from the program.
"I've been able to get all the help I needed to make sure I could be an amazing educator, an amazing student, and really grow into my purpose," Leaphart said.
After his speech, Thorn stepped aside for the next speaker to take the stage: Kamara Jones, Acting Assistant Secretary for Public Affairs at the US Department of Health and Human Services (HHS). She shared an emotional story about her time at MU.
Jones, who graduated from the Missouri School of Journalism, said her experience at MU taught her the importance of sharing other people's stories to help them find their voice. Despite not having the best experience during college, Jones said that she always bumps into familiar faces.
"What has happened to you, what you have done, or what you have not done is not your story," Jones said.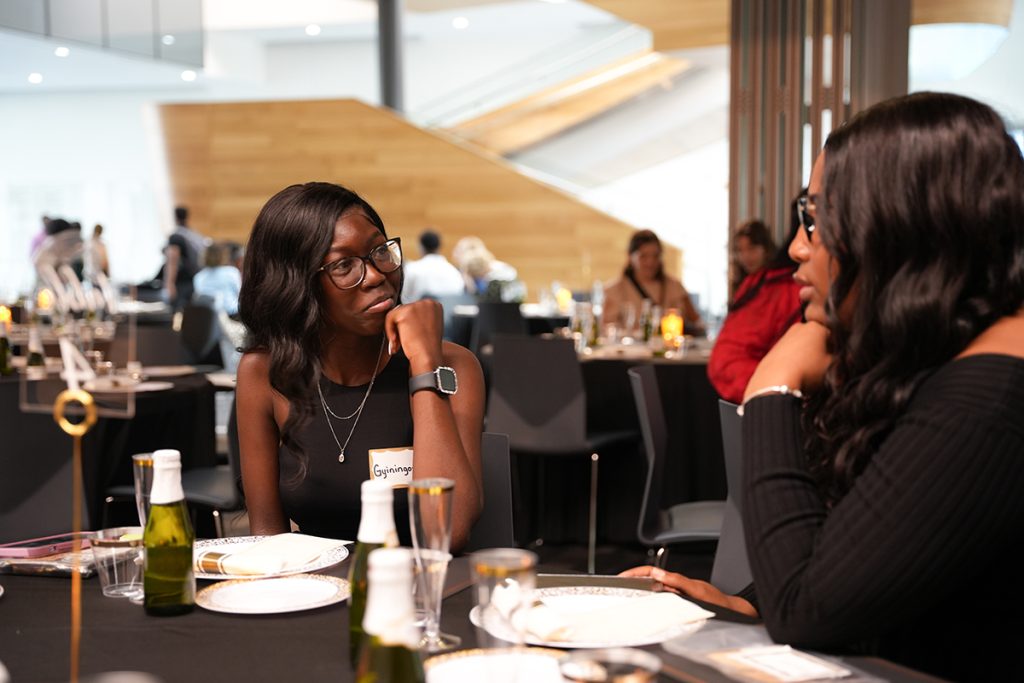 She encouraged the graduates to take charge of their own story, telling them to "talk to yourself and listen to what you're telling you" and to "decide what your story is and be sure not to fumble the bag."
Jones reminded them not to compare themselves to others and assured them everything would work out in the end. She thanked the McDavid Scholarship for making it possible for her to attend graduate school and to now work in Washington, D.C. Jones closed by wishing the graduates luck on their future endeavors.
The seniors then joined the stage one by one to introduce themselves, announce their majors, and share their plans for the future. Graduates eagerly took the opportunity to showcase their accomplishments and aspirations. It was a powerful testament to the shared sense of community and the support fostered by CASE.
"[CASE] is kind of the only reason why I'm at Mizzou," Diversity Scholar Jordan Walters said. "If I did not get the [Diversity Scholarship], I definitely would not be here. It really paved the way for me to actually get on this campus and experience a whole different college experience that I wouldn't have been able to have if I was in Texas."
After all the seniors stepped off the stage, eager to begin their new post-CASE adventures, a toast with sparkling cider was led by Ericka Aaron, the Assistant Vice Chancellor of Inclusive Engagement and Constituent Relations.
"Get on your magic carpet, you all, and ride," Aaron proclaimed, raising her glass.
The last speaker of the night was Natasha Brown, one of MU's Track and Field coaches. To mark the end of Salute to Excellence spring 2023, Brown sent the graduates off with one final message:
"Graduation is not the end, but only the beginning."