Published on Oct. 28, 2022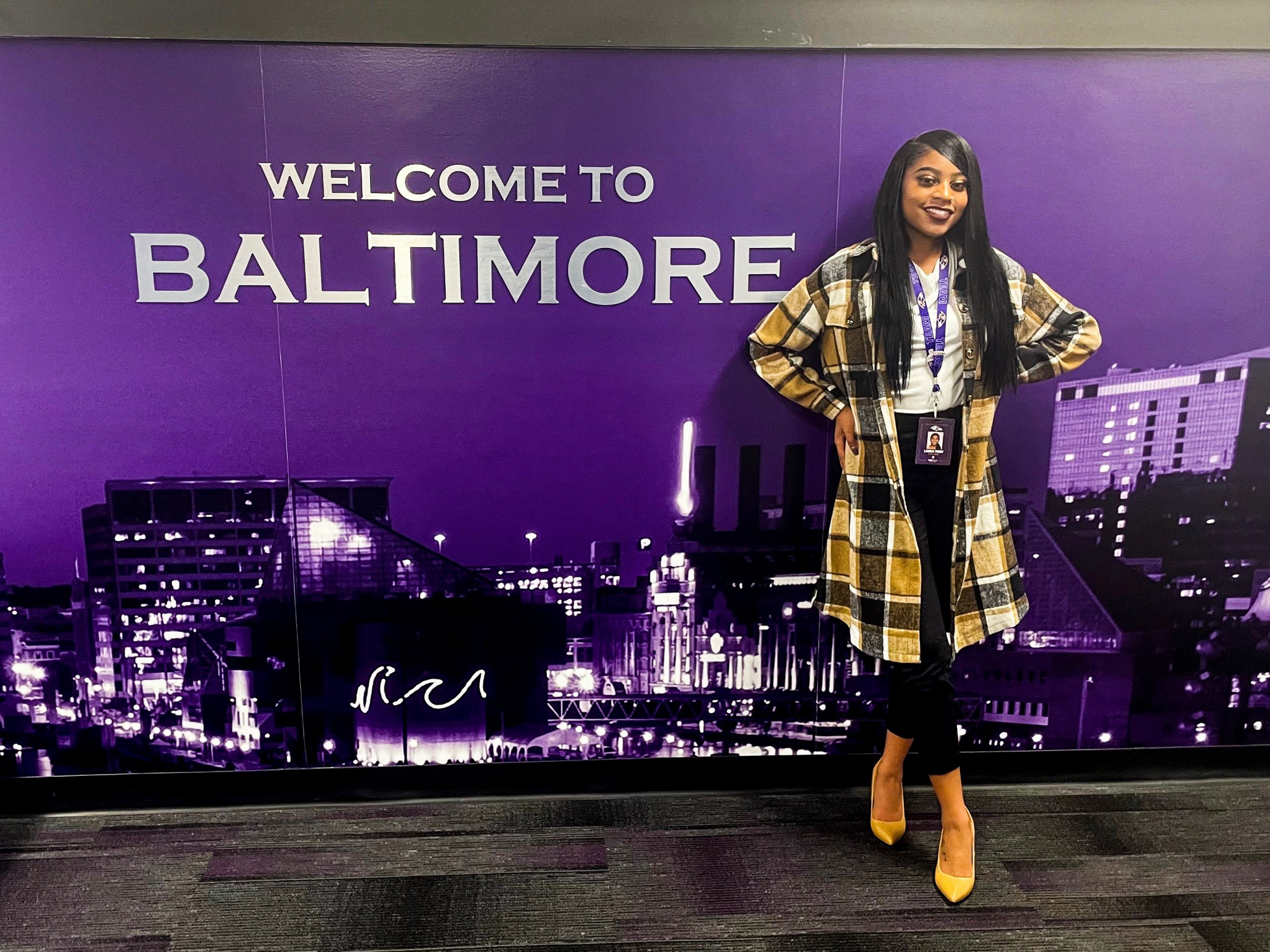 It was June 6, 2022. Less than 2 months since graduating from MU. Lauren Purdy was moments from beginning the next chapter of her life. Butterflies began to flutter in her stomach as she anxiously put one foot in front of the other to enter the Baltimore Ravens headquarters in Owings Mills, Maryland.  
"I remember feeling nervous on my first day but at the same time I was excited because I knew it was going to be a learning experience," Lauren said. "I remember I got a lot of gifts. I met a lot of friendly people that day and I actually got right to working my first day."
Ravens digitial media intern was Lauren's official title when she initially started. However, before accepting the position, she had some doubts. Her biggest concern was if she could afford to live in the Baltimore area without having a full-time role fresh out of college. After several discussions with family and mentors, Lauren found the clarity she needed.
"I knew that in sports, if you know what you want to do, you have to get your foot in the door somehow. You can't just jump right into it, so I knew I had to start somewhere," Lauren said.
The leap of faith paid off. Not in her wildest dreams could Lauren have predicted what was about to transpire. After just three months of what was supposed to be a one-year internship, turned into a full-time gig in the National Football League (NFL).
Lauren had plenty of experience from her time at MU that helped her get to where she is now as digital web coordinator for the Ravens. She exemplified a multitude of strengths, and her work ethic was always clear to those around her. 
While at Mizzou, Lauren was an executive board member for the National Association of Black Journalists (NABJ), worked for Mizzou Athletics, freelanced for Columbia marketing agency Influence & Co., and even worked with Fox Sports her senior year. But it was the Center for Academic Success & Excellence (CASE) where she spent all four years of college gaining experience as digital communications intern on the CASE marketing team.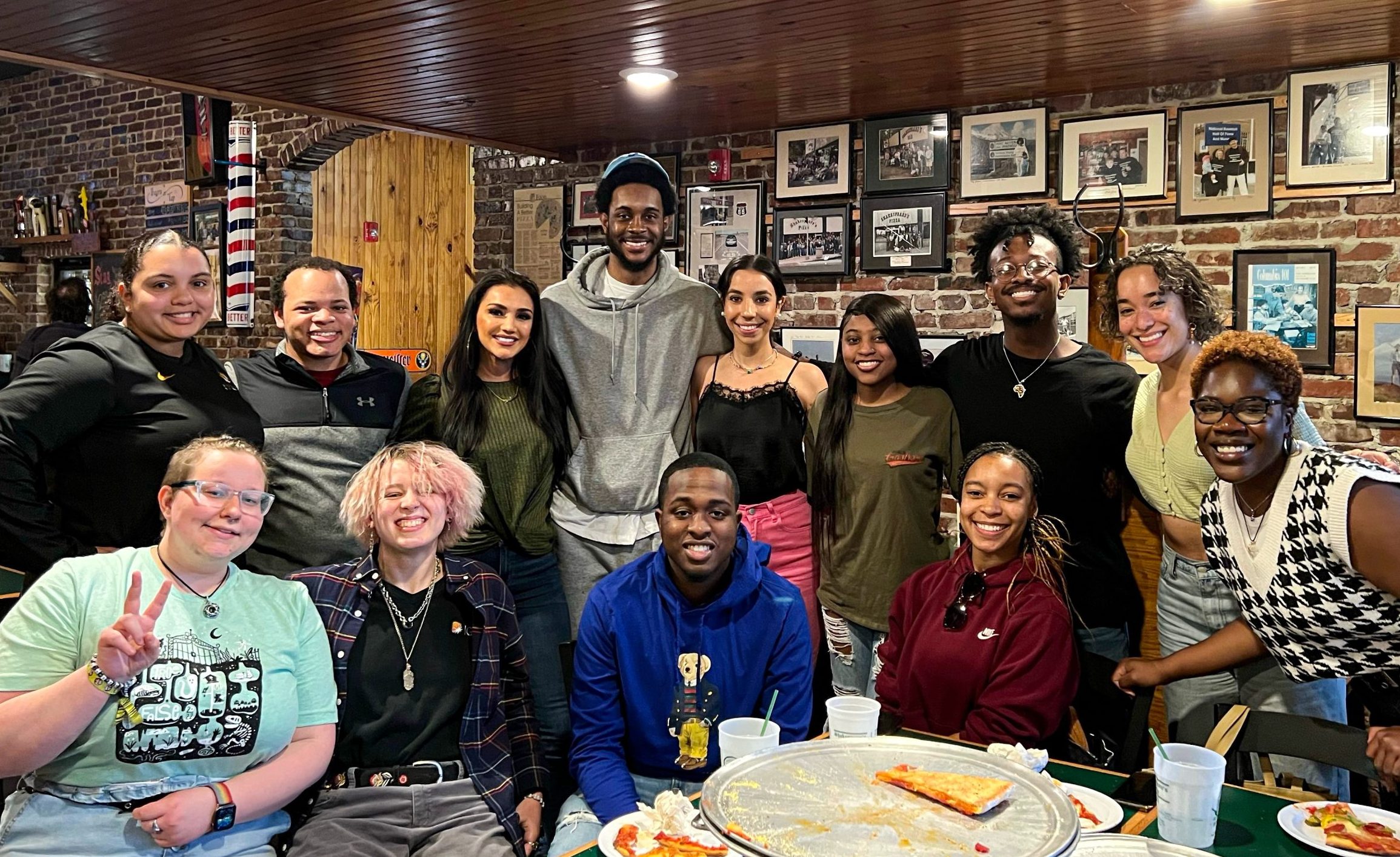 Those at CASE described Lauren as the team's "ride or die" and "creative genius" — there from beginning to end, always giving her all.
"I don't know what I would have done without Lauren. She was truly the heartbeat of the CASE marketing team and played a significant role in building our marketing team where it is today," Lauren's former boss at CASE, marketing director Fallon Smith said.
From working at CASE, Lauren discovered she wanted to pursue a career in media. She created graphics and animations and managed all the social media platforms for the CASE team. She then later found that she could merge her two passions: media and sports. That eventually led her to the perfect set up for her current dream job with the Ravens.
"I knew I wanted to continue doing some type of sports entertainment," Lauren said. "I think Mizzou prepared me as far as having foundational skills for strategy. CASE prepared me for how to work with a team in the real world and building relationships with my coworkers. I feel like I had great relationships with my CASE team and I'm able to do the same here. CASE forced me to go outside my comfort zone and do things that I didn't really want to do. So, this is job [with the Ravens] has done that too.
Her journey to Baltimore, in an interesting way, conveyed just how small of a world we live in. When Lauren was a senior at MU, she recalls the day Chanel Smith, a Mizzou alumna came into her class to talk about her position working for the Ravens. Immediately, this sparked Lauren's interest, and questions came rushing into her mind. 
When Chanel thinks back to the day she to MU to speak, she specifically remembers Lauren sticking out to her. 
"I don't remember exactly what it was. But I remember she asked me a question. It was a really good question," Chanel said.
After this interaction, the two connected on LinkedIn followed by several emails back and forth. Lauren eventually received the opportunity to apply for the internship with the Ravens.
"[Lauren] had a fantastic resume. She automatically flew to the top of my list," Chanel said. "During her first interview, we were all super impressed. I remember thinking, she out of all the applicants, knew what she was talking about."
And this was how it all came to be. 
Lauren was nervous about this new life she had ahead of her but understood to reach her career goals, she had to start somewhere.
"I knew the only way I can do that is if I take a chance," Lauren said. So, I just sat down and had to be realistic with myself." 
She had CASE's Fallon Smith during this time of excitement who supported her throughout the process, beginning to end. 
"I was so pumped when Lauren told me she was a finalist for the Baltimore Ravens internship opportunity," Fallon said. "I knew all they had to do was meet her and they would fall in love with her calming presence and talent, just as I did."
That is exactly what ended up happening. 
Lauren received the offer and accepted the internship position, moved to Baltimore, and was quickly thrown into a fast paced yet promising environment. Shortly after her arrival, her boss with the Ravens stepped down from her position, which meant Lauren had to step up to the challenge.
Chanel now works side by side with Lauren. When their boss left, she was impressed with how Lauren handled the additional responsibilities.
"She did more than what was asked of her. She was literally thrown to the wolves. It was me and her really taking on a lot of extra work," Chanel said. "I was able to build trust with her super-fast. She had the ability to kind of be thrown to the wind and plant her feet." 
After just three months of interning, Lauren applied and interviewed for the new vacant position created by her boss' departure. The Ravens offered Lauren a full-time position as digital web coordinator. Chanel called it a "no brainer."
"She was a very important part of the team, and with her it was just very natural. She is somebody I can rely on and who is super pleasant to be around," Chanel said. "I just can't emphasize enough how important she's been to the organization, especially during such a really rough time. She's easily become part of the family and I absolutely love working with her."
The shift from interning to working full-time was a big jump, but in a sense, it was a seamless transition. She was doing a lot of the work she's currently doing now. However, Lauren shared that as an intern she was given mostly task-based projects but as the tables have turned, she is the one making decisions and who people come to with certain requests. Her day-to-day responsibilities keep her on her toes to say the least. 
"Sports are changing every day, so we must be on top of it. They always make fun of me in the office because I come in early. First thing I do is I work with the photographers a lot to make sure that their photos are uploaded from events or anything from practice," Lauren said. "Then I make sure our press conferences and live streams are set up for the day. I work with our editorial director and our PR team a lot. Literally every department comes to me for stuff for the website." 
Lauren has come a long way from her days at Mizzou, and all the hard work she's put in has been worth it for her. She loves what she is doing, as well as the people she works with and she's excited for what's to come.
"I've done things that I would have thought I would never do, but I'm not afraid of a challenge," Lauren said. "I've jumped into the lion's den since I've been here, and it's gone well so far. I still say, 'maybe I'll end up back in the South', but this is something new for me to explore."