Published on May 2, 2022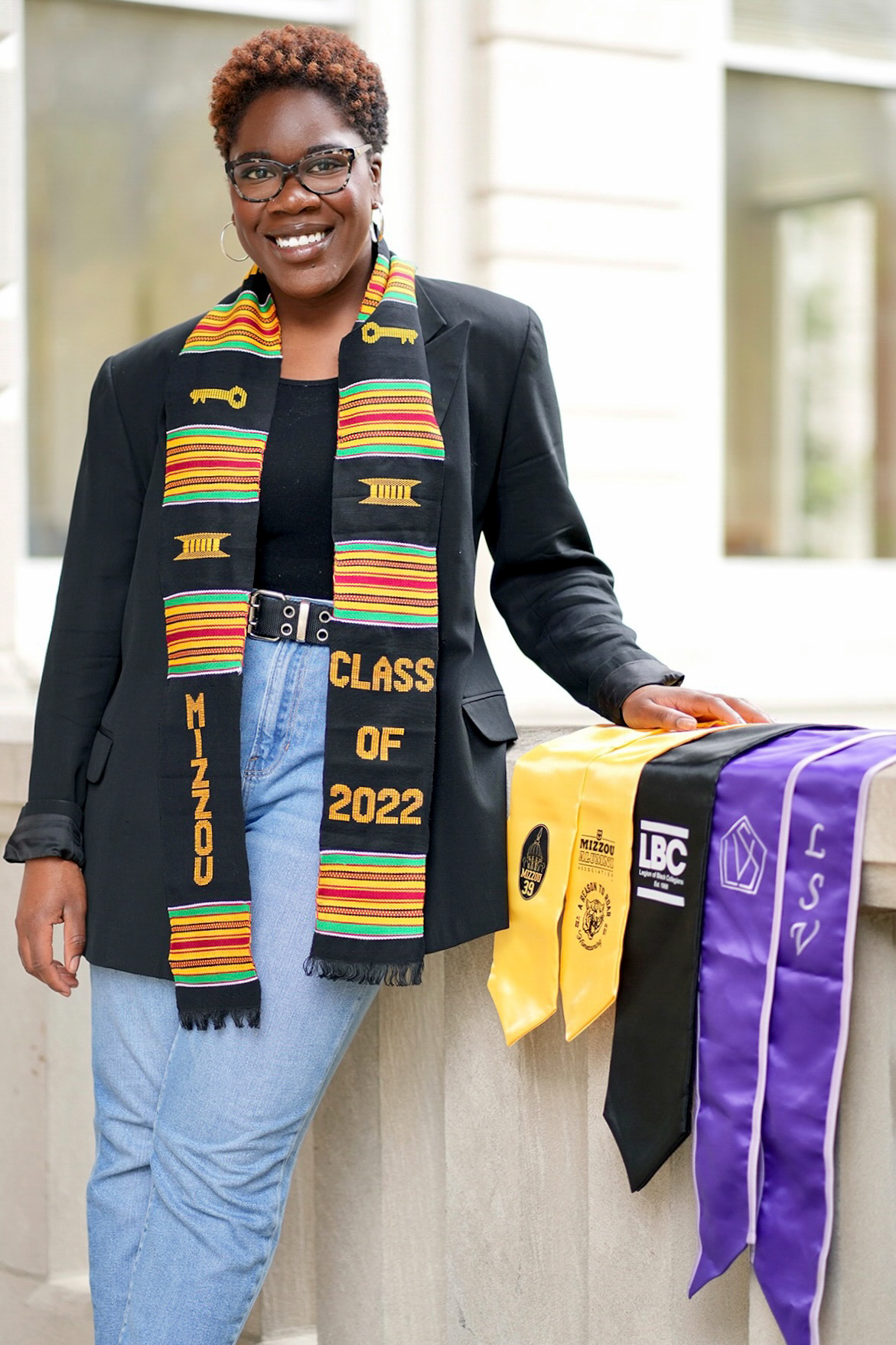 "Hey Roshae! Was thinking about you. I wanted to check in and see how you are doing?"
It was Monday morning, Nov. 8, 2021. Out of the blue, Diversity Scholar Roshae Hemmings received a text from a mentor she hadn't heard from in a while. As ordinary as it may seem, the words carried immeasurable power. She didn't know it at the time, but that simple text would be the catalyst to Roshae reaching her full potential.
To get to that, we must get to know who Roshae is and where she comes from.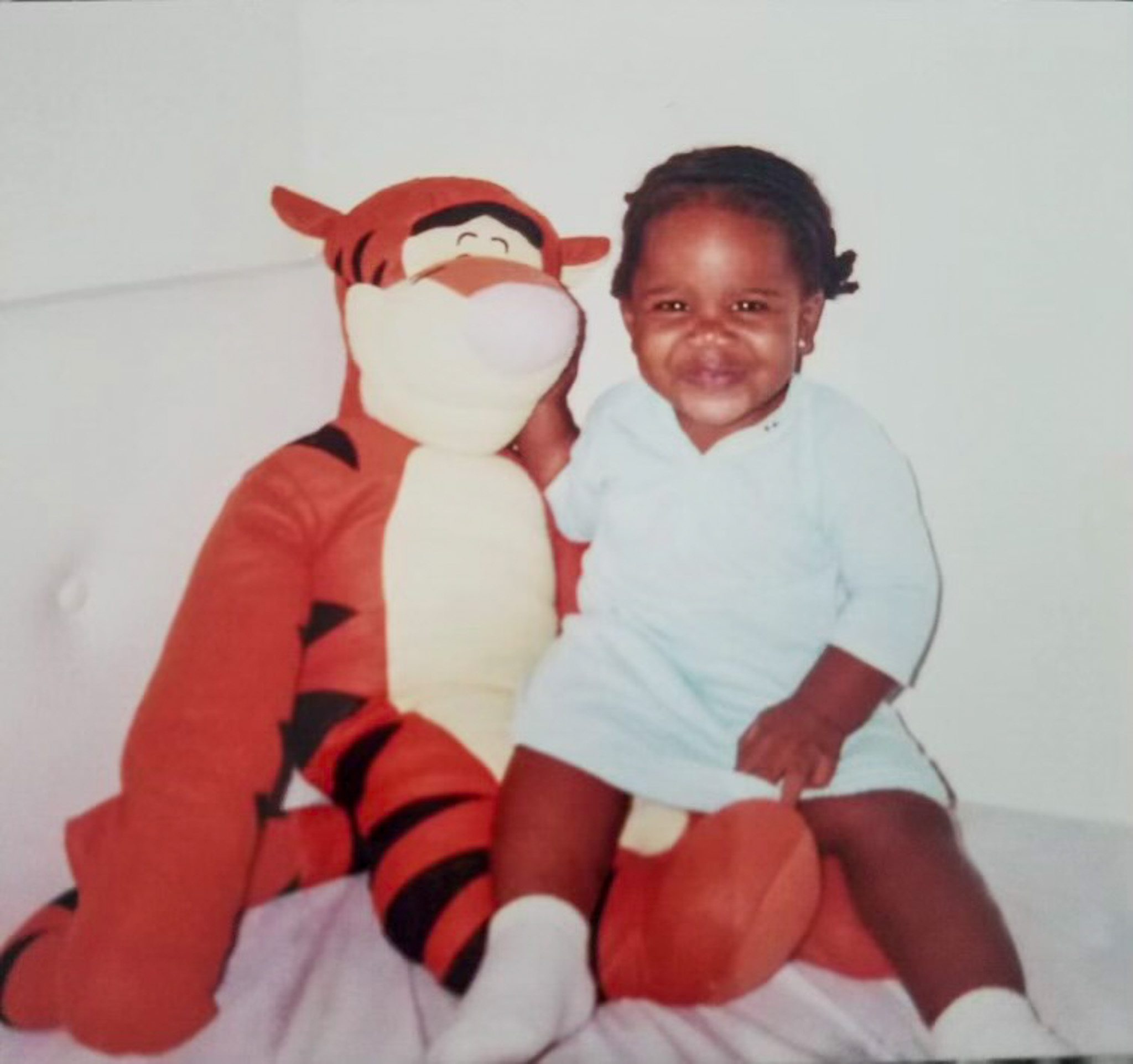 The MU senior was born in Kingston, Jamaica. Her mother made sacrifices that Roshae was unaware of, at the time. Off to the U.S. at just one years old, Roshae lived in St. Louis, Missouri with her aunt and cousin. In the meantime, her mom, being a Jamaican immigrant, transitioned from the only home she knew to work in Florida to attain permanent residency.
"It just felt normal to me," Roshae said. "Growing up with my aunt and my cousin — it just felt like any other kind of normal upbringing. Then when my mom came to Missouri, the four of us lived together…I think something that was really cool about my childhood is that my mom, and my dad and really just the family, in general, made it a point to make sure that my cousin and I had the best possible childhood."
Early on, Roshae's mom emphasized the importance of education, shaping the drive she had throughout school.
"It was just a thing," Roshae said.
Her family supported her. It was never a doubt in their minds she would attend college.
With her passion for journalism sparked during her sophomore year of high school, Roshae imagines herself being a writer in a lofty New York apartment. Knowing MU is home to one of the top journalism schools in the country, Roshae decided to pursue a degree at the university as another step in reaching her big city dreams.
She also grew up learning to be self-sufficient, which is an important quality for college. However, there is a thin line between being self-sufficient and knowing when to reach out for help, especially as a first-generation college student.
"When I realized that I was in this state of a lack of information, a lack of knowledge, I think that's when it kind of hit me," Roshae said. "Like 'Oh, wow, I really am the first one in my family to do this in a lot of ways.' I'm kind of like 'the test', and so that was a bit jarring."
In hindsight, the Center for Academic Success & Excellence's Summer Transition Program, now the Summer Bridge Program, alleviated some of those initial feelings of disorientation. As an eight-week summer session, incoming freshman, including many first-generation college students, receive vital resources and support within the program after completing the application and interview process.
To Roshae, joining this meant compromising her last summer at home before college. To her mom, this program was exactly what Roshae needed. So, she signed up a skeptical Roshae for the 2018 program.
"I was so nervous," Roshae said. "I literally felt like my stomach was in my butt. I was so scared. And I remember being tiny and very introverted and to myself. Initially, I was just not buying into it. And then, I started talking to people and making friends and kind of coming out of my shell."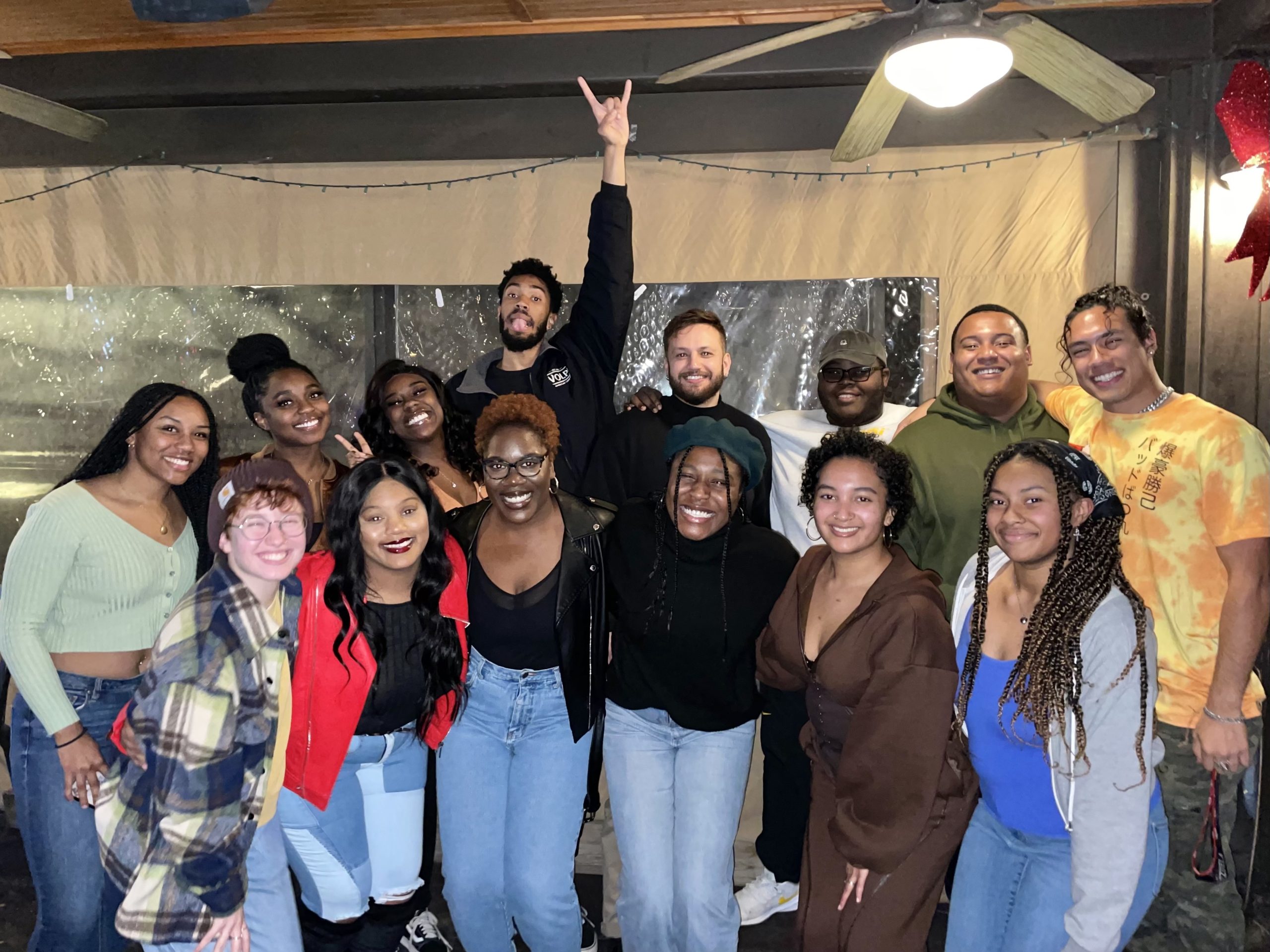 Once she allowed herself to enjoy what Summer Bridge offered, a "network of people" as Roshae puts it, welcomed her into MU. This is the same program where she met her first college best friends. She also met two mentors from CASE, former graduate assistant Amand Hardiman and former Summer Bridge Program leader Justin Light. These mentors were more than academic support to Roshae. She describes Light as someone who is like a father figure, friend, brother and therapist all wrapped in one.
Now, looking back, Roshae admits her mom was right to encourage her to join the program.
"I, still, four years later stand on the fact that STP was easily one of the best summers of my life," Roshae said. "I ended up being a coordinator for Summer Bridge the following year because I loved it so much."
From the Summer Bridge program, Roshae confidently strolled into her first full semester of college. Blazing a trail in her path, she got involved with everything she could. One organization she's been part of since freshman year is the Legion of Black Collegians. It's been a safe space for Roshae.
"I think sometimes college doesn't feel like it's for me because I haven't had anyone do it in my family before," Roshae said. "I already felt like I was at a disadvantage, and then, to come to Mizzou, which is a predominantly white institution, as a black woman, it felt like I was also in a disadvantage in that regard. LBC was really great because it helped me to find community. It helped me to make connections and make friends."
Beyond the community she built within LBC, Hardiman, aware of Roshae's passion for writing, asked Roshae to join the CASE marketing team at the beginning of her freshman year. This was one of those shining moments in her life, as Hardiman was one of the first people who "took a chance" with Roshae's writing.
Being an intern on the CASE marketing team, Roshae was given a platform to use her writing to highlight the successes of CASE's underserved and underrepresented minority students.
When Hardiman received his graduate degree and was no longer working at CASE, a new face appeared in Roshae's life. In February 2020, Fallon Smith was hired as CASE's Marketing Director to relaunch the marketing team. Rebuilding started by recruiting and interviewing previous CASE marketing interns, Roshae included.
Initially, Smith and Roshae's relationship had a formality to it.
"I don't know if I've ever told Fallon this, but at first, I was a little bit off put," Roshae said. "I was like, 'Oh, this is a little intense' because she was for real…And because I'm just a stubborn person, I was like, 'Who is this woman? Who does she think she is?' But then, I was like, 'You know what, let me stick around and let me do this.'"
During her time as a CASE intern, Roshae wrote a plethora of inspiring stories featuring CASE scholars. She made an appearance on the On the CASE podcast sharing her personal story of being from Jamaica. She even guest hosted an episode, interviewing CASE Director Dr. Andre Thorn.
"Roshae was one of my strongest writers," Smith said. "Then when she filled in on the podcast, I was blown away. She was a natural."
Three years into her education, everything seemed to be going right for Roshae.
However, beneath cordial smiles, Roshae felt she was missing something — and Smith noticed a disconnect. Smith came to realize Roshae needed to focus on school. The best way for that to happen was by letting her go from the CASE marketing team in the summer of 2021 — although it was an extremely difficult decision for Smith.
"I cared more about Roshae graduating than I cared about her being on the marketing team," Smith said. "We would obviously miss her talent, but she needed to graduate — she needs to graduate. That was priority number one, so I had a talk with her. I said: 'Roshae, you know you're not pulling your own weight. And you know I care about you. I love you — but you need to focus on graduating.'"
Nevertheless, Smith made sure to keep in close contact, and Roshae went into the fall 2021 semester, avoiding the fact she needed to face: she is going to graduate.
"I think usually when I come into each new year, I am able to get into school mode, and my brain will get there," Roshae said. "That's just not how it happened this academic year…There were things I was going through, personally, that I was dealing with that were distorting my view from academics."
As the semester breezed by, Roshae pondered on the idea of contacting Smith, but hesitated. Fortunately, on Nov. 8, 2021, this day was like one of those moments for Roshae where things happened exactly how they are supposed to.
"It was crazy," Smith said. "I was just driving one day, and I thought of Roshae. I really felt God placed her on my heart. 'Hey, make sure you check on Roshae. Send her a text.' So I did."
When Roshae looked at the notification from Smith, she responded back acknowledging the coincidence of them both thinking of each other that day. Then, Roshae took the next step, explaining where she was at truthfully.
Roshae and Smith would later get on a call. After some brief small talk Smith said: "I just checked your grades." Roshae, in that moment, released everything she had tried to burden on her own.
For over three hours, Smith put everything aside to be present with Roshae.
"I think that moment was really the shift in our relationship," Roshae said. "It wasn't just that she was my former boss/mentor, but she became part of my support system and like a friend. In that conversation, she literally just listened to me and talked to me like a friend. That meant a lot. I feel like I tell her that, but I don't think she'll ever understand fully how important that conversation was and having her in that moment."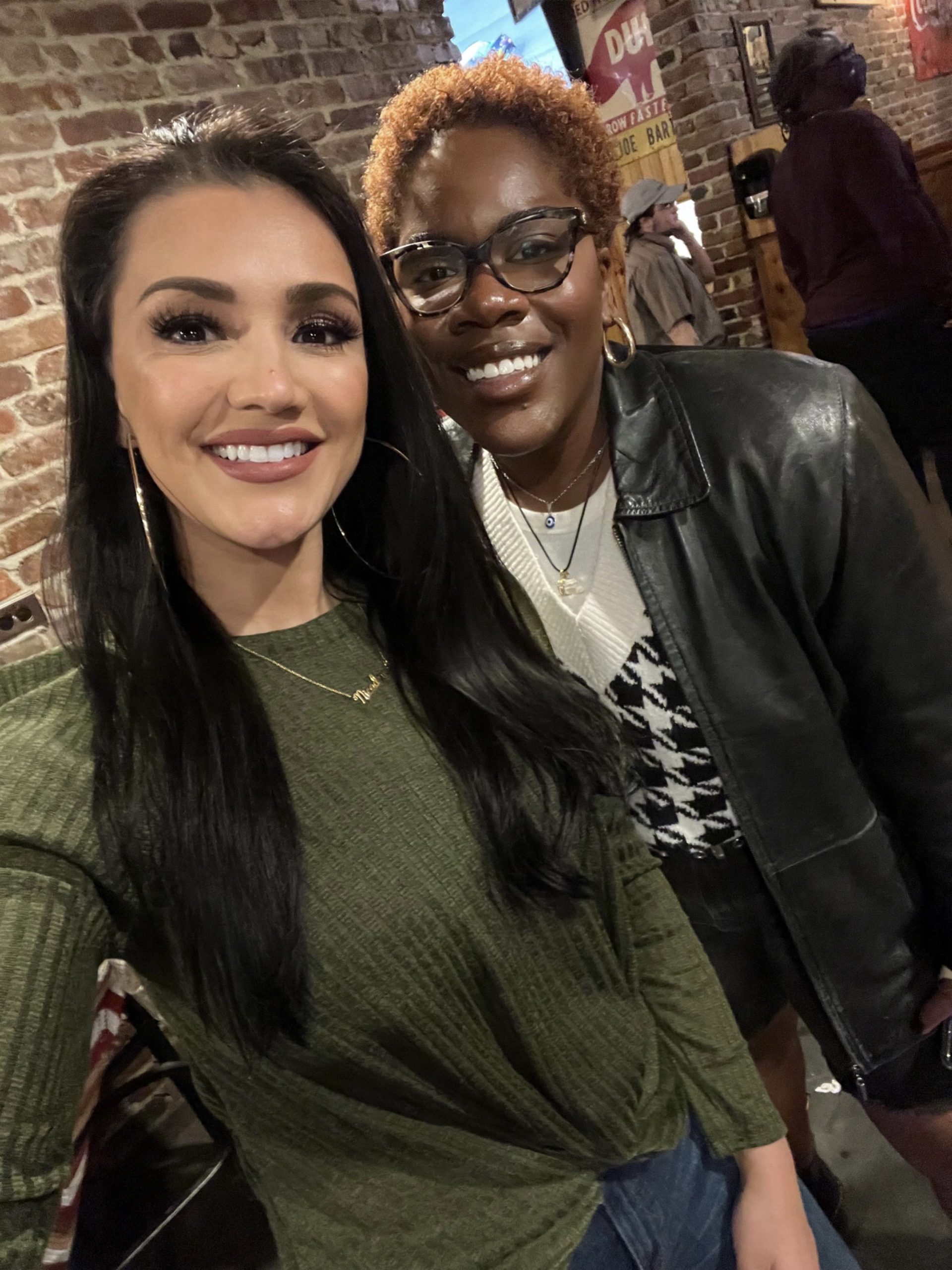 Struggling with her mental health, Roshae admits she was in a dark place which resulted in her missing several classes, putting her grades and graduation status in jeopardy. Roshae was uncertain how she would pass any of her classes that semester. As a senior, it was terrifying to be so close to the end and in this position.
"I was not getting off the phone with Roshae until I knew she was okay mentally and we had a plan in place moving forward that was going to get her back on the right track to graduate," Smith said.
Still, Roshae felt embarrassed of the spot she was in, but during the call Smith emphasized she wasn't alone in her feelings, and it was always better to reach out for help than to suffer in silence.
"I envision it like I'm sitting in a hole," Roshae said. "Fallon sat in that hole with me, but then, she stood up, met me at the top of that ditch and said, 'Okay, come on, grab my hand, we're gonna come out of this together.' I think she reminded me of the goal and the motive, which is my family and my mom, wanting to tell stories about marginalized communities in an accurate way — wanting to walk this stage and get this degree as a first-generation college student."
After Smith allowed Roshae to express what was going on, they initiated a plan of action. Immediately, Roshae drafted emails to professors, took accountability for her academic status, was honest about what she was going through and asked if there was any chance she could make up assignments to pass their classes. Smith looked over the emails before being sent. She even reached out to multiple resources on Roshae's behalf, including Lynda Kraxberger, the associate dean of undergraduate studies for the j-school, who served as an invaluable guide during this difficult time.
To her pleasant surprise, Roshae's professors showed empathy and allowed her to make up missing assignments for partial credit. With determination, Roshae took the proper steps to get back on track, putting in a tremendous amount of work.
The switch Roshae described – striving for success – flipped back on. She made it through the semester, with Smith guiding her along the way, still set to walk the stage in May. However, Roshae wasn't done yet.
In the midst of refocusing on her goals, Roshae went through the application and interview process for Mizzou '39, a prestigious undergraduate award presented to 39 outstanding seniors for their contributions to campus and the community throughout their time at MU. During the interview, Roshae sharing her truthful experiences granted her peace in the process. This award was something she hoped to earn, and when Roshae discovered an email about receiving the award, another proud moment took place.
Standing on Traditions Plaza for Mizzou '39, Roshae's exceptional journey through MU was put on display.
"It was so crazy that it happened," Roshae said. "Being up there was like a dream. Mizzou '39 was another one of those things that I wanted. Like another of those fleeting thoughts."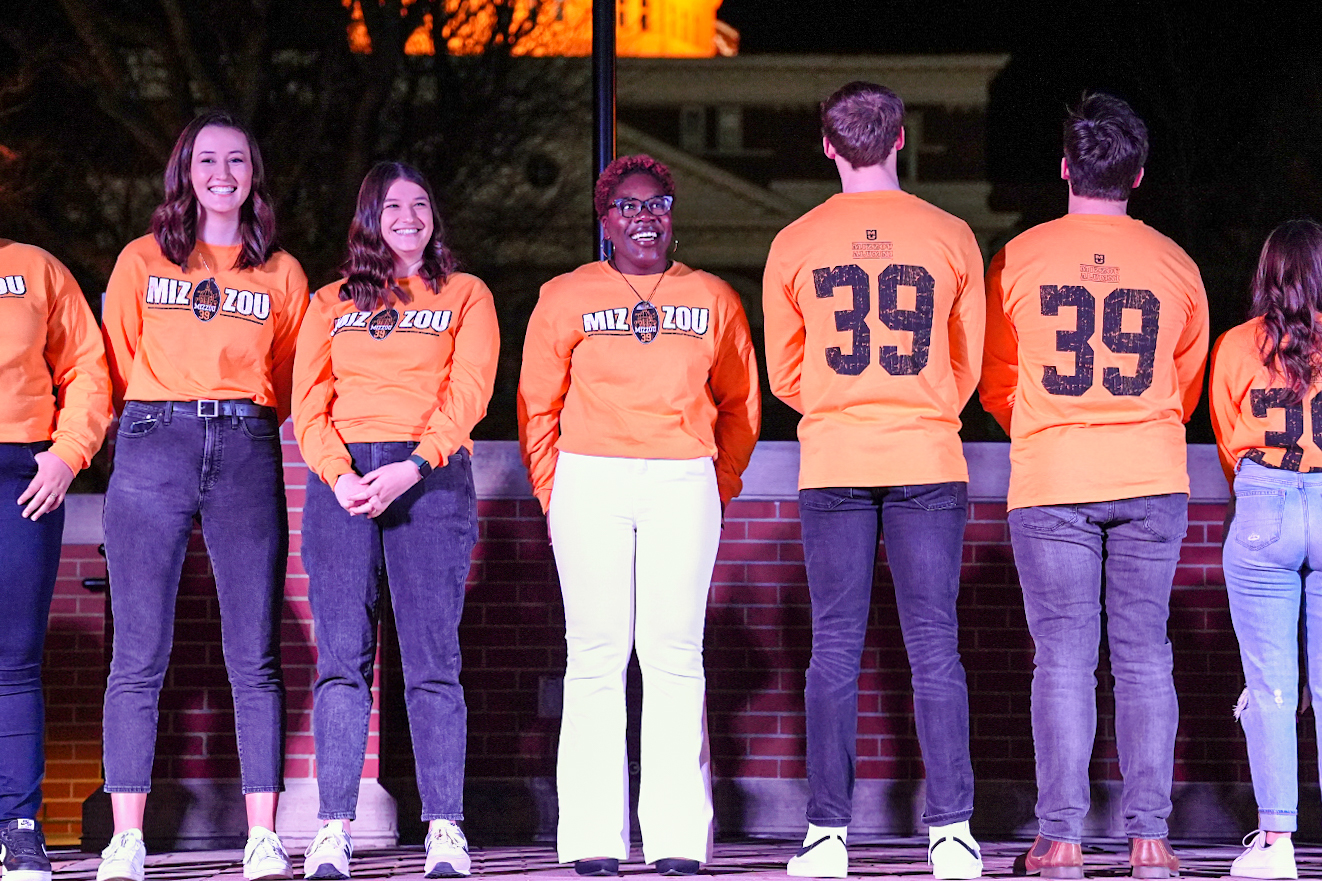 Turning her life around so quickly – within four months – Smith recognizes that Roshae will continue doing great things.
"I'm so unbelievably proud of Roshae. The sky's the limit," Smith said. "No matter how cliché that is, it's true, sky's the limit for Roshae. She has such a unique talent and a way with words. It doesn't matter what Roshae does, what topics she covers and what she writes about. She is going to be a star, period. I'm excited to witness that success."
In the summer, Roshae will be an intern for 5280, a Denver based magazine, writing on the eat and drink beat. As for after the summer, she still dreams of living in a big city, writing commentary at the intersection of pop culture and social justice. Roshae is confident everything will fall into place.
"I have ideas of what I want to do," Roshae said. "But if I've learned anything in the past few months, it's that you really have to be like, 'Okay, universe. Okay, God. Whatever you have in store for me, I will lean into it.' Whatever comes my way, I'm open to it."
There are many people in Roshae's corner, rooting her on until she reaches the college finish line. By having the courage to take advantage of the help offered, though, Roshae found something she never had before.
"The word to describe my life right now is surreal," Roshae said. "It really is surreal to be in such a better space mentally, to see just so many blessings enter my life, whether that be through people or opportunities. Not even in huge ways, like Mizzou '39, but in little ways. I really am trying to be better about living in the present moment…I feel like graduating is happening in perfect timing. It just feels like it's happening on time. And I'm just trying to soak up these last few weeks with my friends and enjoy undergrad and enjoy my classes. I'm just relishing in all of it – it's very beautiful."
What was a simple gesture from Smith to catch up with a former intern, turned into something much bigger than either of them anticipated, but are grateful for. It helped Roshae get back on track mentally and academically, but it took immense strength for Roshae to initiate a difficult conversation.
"Hello!" Roshae replied to Smith on Nov. 8, 2021. "You actually came to mind this morning, so it's funny you reached out…"